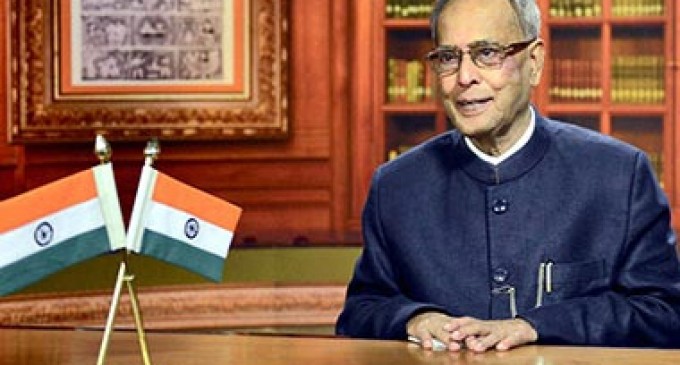 New Delhi, Oct 16 (IANS) President Pranab Mukherjee late on Thursday concluded what he said was a a historic maiden visit by an Indian head of state to Jordan, Palestine and Israel, giving a push to bilateral ties, while calling for peace and restraint amid heightened tensions in the region.
In an interaction with the media on board the Air India One on his return, the president said he also sought to send home the point that India's ties with one with one country were not linked to another and that this was respected and appreciated by the leaderships of all three countries.
The president, who had a hectic schedule in all three countries, also made a significant point during his interaction with opposition leader Isaac Herzog in Israel. "My point was mere religion cannot be the basis of a state," Mukherjee said.
"For example, a large number of Arab countries practice one religion, but they have not converged into one country. Similarly, Pakistan was formed on the basis of religion, a large chunk has been split into an independent state within 25 years," the president noted.
During the visits, a section of the media in both Palestine and Israel was critical of the Indian president's visit to the other country, especially at this juncture when cases of stabbing by the Jewish and Arab communities are being reported almost on a daily basis, especially in Jerusalem.
But the president brushed aside such conjectures.
"In Palestine, President Mahmoud Abbas appreciated our support and he thanked me profusely for staying overnight in Ramallah — being the first head of state from any country to do so. He respectfully described us as 'brothers' and not just friends," the Indian president said.
"Twenty-three years ago, we established full-fledged diplomatic relationship with Israel. We are mainiaining our stated principled position with Palestine. Therefore, this is the job which the government of India is doing for more than two-and-a-half decades."
Earlier, Israeli Prime Minister Benjamin Netanyahu had also called Mukherjee's visit significant. "This is historic — the first by an Indian head of state. We welcome you to the only democracy in the Middle East. Our two countries have stayed as examples for democracies for seven decades."
The visit also saw the top three universities in each of the three countries – the University of Jordan, the Al-Quds University in Palestine and Hebrew University – confer honorary doctorates on Mukherjee, besides the signing of a host of agreements ranging from education to technology.
He also met expatriate Indians in both Jordan and Israel, where they number around 10,000 each.
Another significant outcome was the inauguration of a $860-million Indo-Jordanian fertilizer unit with King Abdullah II ibn Al Hussain that will produce and export to India 4,500 million tonnes of sulphuric acid and 1,500 million tonnes of phosphoric acid annually, besides other nutrients.
This apart, the president also got the opportunity to address lawmakers in both Jordan and Israel — the Majlis al-Umma and the Knesset, respectively.
The thrust of the visit was on ensuring peace in the region.
"In public meetings, I expressed distress at recent incidents of violence and condemned all forms of terrorism and called for peaceful resolution of all disputes," the president said, adding none of the leaderships desired that such incidents erupt into a religious war.