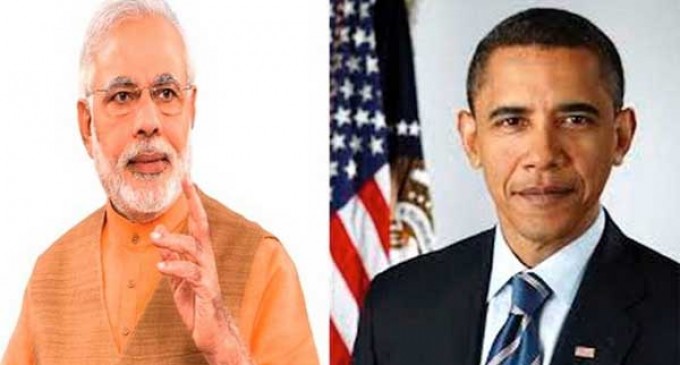 Washington, Sep 25  Climate change will be a key focus of President Barack Obama's summit with Prime Minister Narendra Modi, officials said as US looks at India as critical to a successful global effort to combat climate change.
Obama will have a bilateral meeting with Modi Monday after his address to the UN General Assembly, the President's Deputy National Security Advisor Ben Rhodes told reporters Thursday in a conference call.
"This will give the two leaders an opportunity to build on the discussions they had earlier this year during the President's historic trip to India," he said.
"We are deeply committed to strengthening the US-Indian relationship, building our economic and commercial ties, advancing our political and security cooperation in Asia and around the world," Rhodes said.
"Notably, India will be critical to a successful global effort to combat climate change, so the two leaders will certainly address their shared vision of how to approach the upcoming meetings in Paris," he said.
A UN conference on climate change in Paris in December aims to reach an accord that commits every country to curbing their emissions.
Noting that climate change "has been a core priority of the President's, at home and abroad," Rhodes said it will be high on the agenda in Obama's bilateral meetings with President Xi Jinping of China at the White House Thursday night and Friday.
"As the two biggest emitters of the world, the leadership shown by the US and China heading into the UN session and the meetings in Paris will be critical to a successful outcome," he said.
After the breakthrough last year in terms of the US and China both announcing targets in terms of emissions reductions, they hoped to have additional commitments the two nations will be taking into Paris, Rhodes said.
While Pope Francis had put his moral authority behind global efforts to combat climate change, the UN Secretary General had put it at the top of the UN's agenda.
Now "the leadership of the two largest emitters in the world (US and China) coming together to support aggressive action to reduce emissions and have a successful agreement in Paris," the official said.
"And then the President's meeting with Prime Minister Modi will be very important because India, of course, is also another major economy — major emitter," Rhodes said.
"And we'll want to continue the discussions that we had in India about what Prime Minister Modi is prepared to do to support successful international action against climate change," he said.
"So this will feature in the President's diplomacy," he said, as "we need all of the nations of the world to step up and be a part of the solution."
Meanwhile, media reports citing unnamed Obama administration officials said Xi will make a landmark commitment Friday to start a national programme in 2017 that will limit and put a price on greenhouse gas emissions.
The announcement to create a so-called cap-and-trade system by the world's largest polluter to reduce emissions from major industries will be made during his summit with Obama. The move, according to the New York Times, is "part of an ambitious effort by China and the US to use their leverage internationally to tackle climate change and to pressure other nations to do the same."