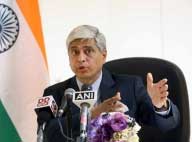 New Delhi, Sep 2  India, Iran and Afghanistan discussed cooperation in the fight against terrorism in the region in a trilateral meeting held in Tehran, the External Affairs Ministry said on Thursday.

Following the first round of the trilateral meeting in New Delhi last April, the second round of the Director General-level meeting was held in the Iranian capital on Wednesday.

"A wide range of issues of common interest were discussed by the three parties including the recent developments in the region and the trilateral political, economic, transit and cultural cooperation," External Affairs Ministry spokesperson Vikas Swarup said here.

"Discussing the situation in the region and Afghanistan, the three parties emphasised the need for regional cooperation to counter current and emerging threats of terrorism and extremism," he said

Regarding the development of transit routes to Afghanistan and the region through Chabahar port, Swarup said it was agreed that in preparation to this some specialised meetings be organised for representatives from trade and industry and the recommendations be reviewed in the next meeting of the Directors General in Kabul.

India, Iran and Afghanistan signed the Chabahar trilateral pact during the visit of Prime Minister Narendra Modi to Tehran in May. 

"The three parties also explored possible grounds for cooperation in the Heart of Asia-Istanbul Process (on Afghanistan)," the spokesperson added.