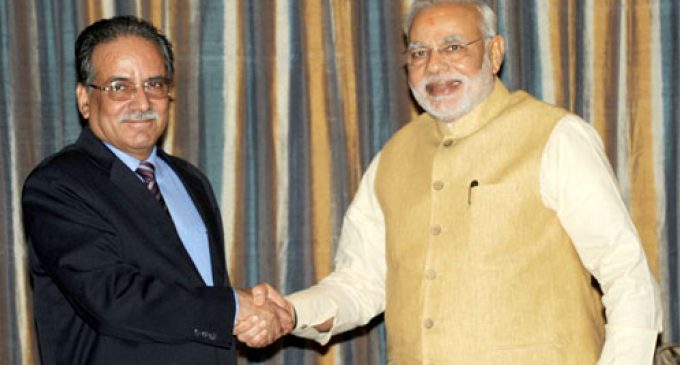 Kathmandu, Aug 4 Nepal's Maoists, once passionately anti-India, Monday joined the Himalayan country's chorus hailing Prime Minister Narendra Modi for the visit widely tipped to take bilateral relations to new heights.
On the second and final day of the visit that has taken Nepal by storm, Modi prayed at the famed Pashupatinath temple, called on President Ram Baran Yadav and met Maoist leaders Pushpa Kamal Dahal alias Prachanda and Baburam Bhattarai, two men who played a key role in ousting the monarchy.
After delivering a major address in Nepal's parliament Sunday, Modi Monday discussed ways to boost bilateral ties with President Yadav in the company of Prime Minister Sushil Koirala.
Further details of the 15-minute meeting were not available. It was followed by a vegetarian lunch that included Gujarati dishes.
It was left to the Maoist leaders to underscore what Modi had achieved in just 48 hours for India-Nepal relations.
"A new chapter has begun between India and Nepal," Prachanda told the media after meeting Modi. "Our talks were very fruitful and very historic. Modi supports the peace process."
Added another Maoist leader, Baburam Bhattarai: "We are really satisfied with the talks."
Nepal's Maoists have in the past been seen as anti-India and pro-China despite the support the Indian establishment extended to the fight against monarchy.
Modi's commitment for Nepal's economic progress and candour – as well as his gesture of getting off his car and meeting commoners on the streets – have won the Indian leader numerous fans in the country.
Political leaders, including those who regularly rake up anti-India sentiments, lauded him, particularly after he agreed to revisit the Nepal-India Friendship Treaty of 1950.
The Maoists in particular have wanted the treaty as its exists to go.
Modi, the first Indian prime minister to make a bilateral visit to Nepal in 17 years, made banner headlines in newspapers here, with one saying that he had won hearts and another that his speech in parliament had left lawmakers spellbound.
Dailies gave wide coverage Monday to the Modi visit. The Kathmandu Post, Nepal's leading English daily, highlighted Modi's $1 billion offer of soft loan to Nepal.
Another interesting story was "Modi Mania: Rousing Remarks in Social Media" which said "#ModiInNepal" was the fourth most tweeted subject while keywords like @narendramodi, #nepal, @pmoindia, #modi, Buddha, kathmandu and constitution were among the highest trending on Twitter.
One editorial said Modi's visit could lead to a new phase in bilateral relations. Vernacular newspapers too ran banner headlines on Modi's visit, his address to parliament and his other engagements.
On the streets, as Modi stepped out of his car Sunday to shake hands with commoners, many started shouting "Narendra Modi, Zindabad!" and "Modiji ki jai ho!"
For Modi himself, Monday's highlight was his visit to the Pashupatinath temple. He said he felt "extremely blessed" after praying to Lord Shiva.
The prime minister, wearing a saffron coloured kurta-pyjama, offered Rs.25 crore to build a 'dharamshala' (inn) in the temple complex and presented 2,500 kg of sandalwood.
Brahmins welcomed Modi by chanting the Veda at the main gate. The temple management committee gifted Modi a picture of Pashupatinath.