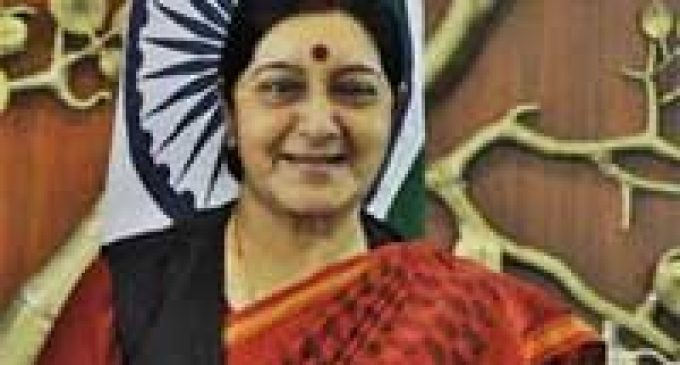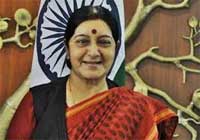 Kathmandu, July 24 India's External Affairs Minister Sushma Swaraj arrives here Friday for a three-day visit – the first high-level visit from the new Indian government – where the Nepal-India Joint Commission at foreign ministers' level will be meeting after 23 years.
Of the three days, two days are being allocated for the meetings of the joint commission and one day for meetings with political leaders.
Besides meeting President Ram Baran Yadav, Prime Minister Sushil Koirala and other top political leaders, Swaraj will have a first hand opportunity to understand the current pace of constitution drafting process in the Himalayan nation given that India has been pushing for it since long.
Top diplomatic sources told IANS that the two sides have identified cooperation in water resources, energy cooperation, trade and transit, economic cooperation, boundary and border management and political and security issues as macro agenda for the joint commission.
Nepal, a Hindu-majority nation like India, has prepared some shopping lists to be handed over to India. These include construction of a 600-MW hydro power project, completion of a major highway that links east and west Nepal and construction of a bridge over Mahakali river which is known as Saradha on the Indian side.
Dozens of pending issues, taken up by both sides over the last 23 years, of which some were totally neglected, some partially addressed and some still to be kickstared, will be discussed.
This visit will seek new areas of cooperation as well as find a new roadmap in bilateral relations, said India's Ambassador to Nepal, Ranjit Rae, adding that it was not just only a goodwill visit but a substantive one.
The visit of Sushma Swaraj is also expected to pave the way for the visit of Indian Prime Minister Narendra Modi when foreign ministers from both sides will sit for the third meeting of the Nepal-India Joint Commission. The commission is an apex body that reviews the entire gamut of bilateral relations between Nepal and India and would finds new ways of cooperation in the changed context, Rae said Wednesday in an interaction with the media.
"We are trying our best for Modi's visit and I hope that Sushma Swaraj's visit will prove a milestone in this regard," said the Indian envoy.
He also said that he was also optimistic that cooperation in hydro and energy sector between the two nations would yield results following intense discussions within the government as well political circles.
In a recent interview, Nepal's Foreign Minister Mahendra Bahadur Pandey, who will be leading the Nepali side during the Indian minister's visit, said said that the talks would be geared towards strengthening bilateral ties.
"I do not think that my counterpart expects a lot from this. Nor do I," he said.
Modi might be visiting Nepal in the future, he said, adding that "we will work to create an environment for it and also pave the way for the Nepali PM's visit to India".
"It would be wrong to draw up a shopping list for discussion. That does not happen at the political level," said Pandey.