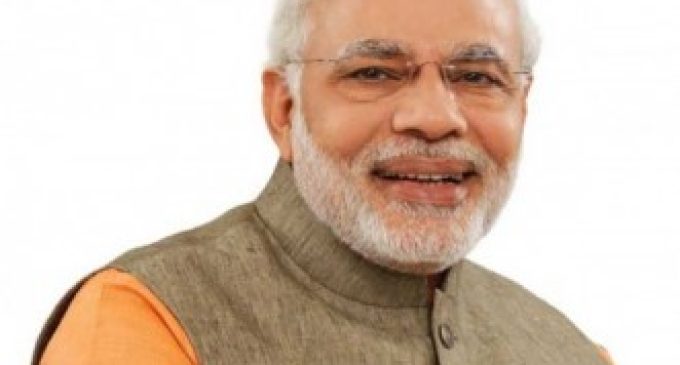 Kathmandu, Aug 3 Making the first bilateral visit by an Indian prime minister in 17 years, Narendra Modi Sunday pledged not to interfere in Nepal's internal affairs, announced a $1-billion line of credit and said New Delhi was determined to forge a new relationship with the Himalayan nation.
After wide-ranging talks with his Nepalese counterpart Sushil Koirala soon after arriving here on a two-day visit, Modi won millions of hearts by speaking in Nepali briefly during his 50-minute address to parliament where MPs repeatedly applauded him.
The Indian leader covered a range of subjects in his parliament speech, from religion to politics, from diplomacy to herbal medicines, and from information technology to infrastructure.
"We have always believed that it is not our task to interfere in what you do but to support you in the path you decide to take," he said while addressing Nepal's parliament, the first foreign leader to do so after the restoration of democracy in this South Asian nation in 1990.
In his speech, Modi appreciated the warm reception he was accorded after landing in Kathmandu earlier in the day on a two-day official visit.
"The respect that I have got is not for Narendra Modi or the prime minister of India. It is respect for the people of India," he said.
"Our relations with Nepal are as old as the Himalayas and the Ganga," he said.
In his speech, Modi made frequent references to the Hindu religion to underscore the ancient ties between the two countries.
"I come from Somnath's land… I started my parliamentary journey from Kashi. Today I am standing at the feet of Pashupatinath," he said referring to his home state Gujarat, his parliamentary seat Varanasi and the famed Shiva temple in Nepal.
"There is a temple in Kashi where the priest is from Nepal, and the priest of Pashupatinath is from India."
He said that not only people of Nepal, but also those who believe in the power of democracy are looking at Nepal and this assembly.
He also hailed Nepal's constitution drafting process during his speech in Hindi which was applauded by the parliamentarians of Nepal more than 20 times.
"A constitution is not merely a book. It integrates the past, present and the future," the Indian prime minister stated.
He appreciated all those in Nepal who gave up the path of war and joined the democratic process.
He touched a chord by paying homage to the Gorkha soldiers who became martyrs uin India's wars against China and Pakistan.
He also spoke on Nepal-India cooperation in the hydropower sector.
"Nepal is rich in water. With water, Nepal can erase the darkness in India," he said. "We don't want electricity free from you, we want to buy it."
Modi also stressed on cooperation among SAARC nations.
Earlier Sunday, Prime Minister Koirala broke protocol to receive Modi at the Tribhuvan International Airport.
The Nepal military presented a guard of honour and a 19-gun salute.
In the afternoon, the Indian leader held one-on-one talks with his Nepali counterpart Koirala at the Office of the Prime Minister and Council of Ministers at Singhdurbar here.
Modi expressed his willingness to extend all possible support to Nepal's peace process and its development endeavours.
Following this, delegation level talks were held during which Modi announced a $1-billion line of credit to Nepal, which will be spent for mutually agreed projects like road and hydro electricity projects, according to Nepal's Finance Minister Ram Sharan Mahat.
Another highlight of the day was when Modi united Jeet Bahadur Saru Magar, a Nepali boy he was taking care of, with his family members at his hotel in Kathmandu.
The meeting between Magar and his family members was the first task undertaken by Modi on arrival here.
On Tuesday, the Indian leader will visit the Pashupatinath temple and meet leaders of various political parties before leaving for India.