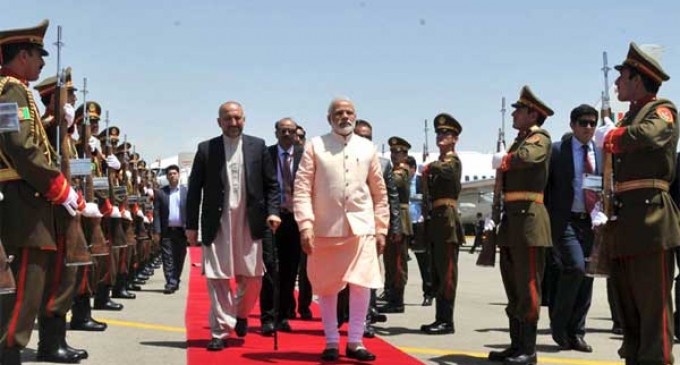 Herat (Afghanistan), June 4  Prime Minister Narendra Modi arrived in the Afghanistan city of Herat on Saturday where he will inaugurate along with Afghan President Ashraf Ghani the Afghan-India Friendship Dam, also known as Salma Dam, rebuilt with Indian assistance.
"Beginning with Afghanistan. PM arrives in Herat to launch Afghan-India Friendship Dam," External Affairs Ministry spokesperson Vikas Swarup tweeted.
Originally constructed in 1976, the Salma Dam suffered extensive damage during the civil war in Afghanistan. The dam reconstruction has been executed and implemented by WAPCOS Ltd, a government of India undertaking under the ministry of water resources.
"It was built at a cost of approximately Rs 1,700 crore," Foreign Secretary S. Jaishankar said ahead of Modi's departure.
The three turbines on the dam are set to produce 42 MW of electricity and the water will irrigate around 75,000 hectares of land.
Located on the Chist-e-Sharif river in Herat province of Afghanistan, the massive hydro electric project is located 165 km east of Herat town and connected with earthen road. Indian engineers and technicians involved with the project have been visiting the site by helicopter service provided by the government of Afghanistan.
The Salma dam is among the most important of reconstruction works launched in Afghanistan by India, besides building the Delaram-Zaranj highway, a power transmission line from Pul-i-Khumri to Kabul. India has built the new Afghan Parliament House, which was inaugurated by Modi during his visit to Kabul in December last year.
Modi will later attend a lunch hosted in his honour by President Ghani.
Thereafter, he will visit the Indian consulate in Herat where he will meet consulate staff and Indo-Tibetan Border Police (ITBP) personnel.
The consulate in Herat had come under attack in May 2014 by four heavily-armed terrorists.
All four terrorists were killed by the ITBP personnel and Afghan security forces.
Later on Saturday, Modi will leave for Qatar on the second leg of his five-nation foreign tour.