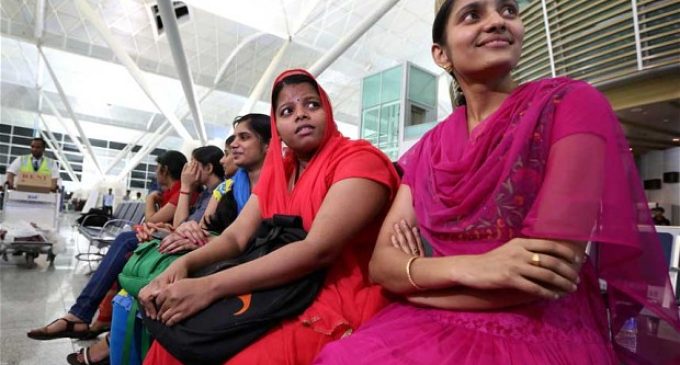 Security situation tense as Govt forces battle Islamic militants
By TN Ashok    Diplomatic Editor
New Delhi, July 30 : India's foreign office has begun preparations in right earnest to help Indians leave Libya by deploying six officers in Libya and Tunisia, transferring funds for use by stranded Indians, and dispatching a Joint Secretary level officer to organize relief work.
The Indian Community Welfare Fund (ICWF) is a corpus operated by Indian embassies in middle east to help stranded Indians with doles to meet emergency expenses and even buying tickets to transport them home.
The External Affairs Minister Ms Sushma Swaraj reviewed the situation in Libya today at a high level meeting with officers of the external affairs ministry and on reports received from the Indian mission there.
Some 58 nurses are returning to India, Syed Akbaruddin, spokesman for the External Affairs Ministry in India told newsmen today.
The Ministry has issued an advisory to all Indians residing in Libya to leave soonest as the situation in the country was tense and did not warrant their continuance. The first batch of Indians from Benghazi are to return to India latest by this week end.
Indian embassy officials will help the Indians leaving Libya complete procedural formalities such as getting their exit permits endorsed by the Libyan authorities, the spokesman said.
According to reports received here, the Libyan government forces have battled Islamist militants for control of an army base in the eastern city of Benghazi on Tuesday, where at least 30 people were reported killed in overnight fighting.
Intense fighting in Libya's second city, Tripoli, has pushed the country into a chaotic situation after two weeks of the fiercest violence since the civil war in 2011 that ousted Muammar Gaddafi.
Diplomats have been pulled out of the strife torn Libya by US and the United Nations after clashes between two rival brigades of former anti-Gaddafi fighters closed Tripoli's international airport.
Three years since Gaddafi's fall, the OPEC nation in North Africa has been unable to contain ex-rebel militias threatening the nation's unity.  In Benghazi, battles have intensified since Special Forces and regular air force units joined ranks with a renegade army general, Khalifa Haftar, who launched a campaign against Islamist militants entrenched in the city, intentional agencies reported. .
Opposition to Gaddafi was the strongest in Eastern Libya, where some of the country's major oil ports are concentrated.  As tribal lifestyles declined with the country's growing oil wealth, people migrated to towns, and traditional power structures in Libya's six million populace remained strong beneath the surface. Gaddafi's strategy was to divide and rule, buying off established tribal leaders.
At least 160 people have died in Tripoli and Benghazi during recent clashes, according to Libya's health ministry.
The US, whose embassy is near to the airport, evacuated embassy staff on Saturday, driving diplomats across the border into Tunisia under heavy military guard including air support from warplanes, agency reports indicated.
Britain and other European governments have also pulled out diplomatic staff or left just a few representatives behind in Tripoli, where the violence is causing fuel and power shortages. France and Spain on Tuesday were yesterday evacuating more nationals and diplomats, according to Lana state news agency. Canada is temporarily pulling its diplomats due to fears about their safety, its foreign minister, John Baird, said Tuesday.
Despite the chaos, Libya's oil production last week was about 500,000 barrels a day.