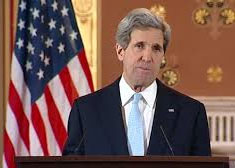 Baghdad/New Delhi, June 23 US Secretary of State John Kerry arrived in Iraq Monday for discussions on the ongoing crisis even as the Indian government said its nationals in captivity in Iraq were safe.
During his Iraq visit, Kerry was scheduled to meet, besides Prime Minister Nuri al-Maliki, Foreign Minister Hoshyar Zebari as well as both Shiite and Sunni leaders, CNN reported
Prime Minister Maliki told Kerry that the crisis in his country was a threat to peace in the region and the world as well.
"What is happening in Iraq poses a threat not only to Iraq but to regional and global peace," Xinhua quoted Maliki as saying in a statement during a meeting with Kerry in Baghdad Green Zone.
Maliki called on the international community, especially countries in the region, to deal with the threat seriously.
The statement also said that Kerry agreed that "Daash" (Arabic first letters of the ISIL or the Islamic State of Iraq and the Levant) poses a menace to Iraq, the region and the world.
"Washington is prepared to reflect that (support) on the ground," the statement quoted Kerry as saying, reaffirming Washington's commitment to the strategic framework agreement with Baghdad, particularly security cooperation.
Meanwhile, 71 prisoners were killed Monday when militants attacked a bus convoy transferring them to another jail in Iraq's Babil province, a police source said.
The gunmen attacked a convoy of buses carrying dozens of inmates from a prison which were escorted by the army unit of al-Aqrab Brigade in the provincial capital of Hilla, some 100 km south of Baghdad, to the one in the town of al-Qasim, the source told Xinhua on condition of anonymity.
Five gunmen were also killed in the gun battle and five guards wounded.
Indians in captivity in Iraq were unharmed, the government said in New Delhi Monday even as efforts continued to secure their release after they were rounded up by suspected Sunni militants in Mosul town of the violence-hit Gulf country.
External affairs ministry spokesperson Syed Akbaruddin told reporters that efforts were being made to move out Indians from conflict zones in Iraq.
Akbaruddin said the government has opened several channels and information was flowing.
"We are every day trying to obtain information, corroborate information and confirm information. Based on that, I can confirm they remain unharmed as of now," he said.