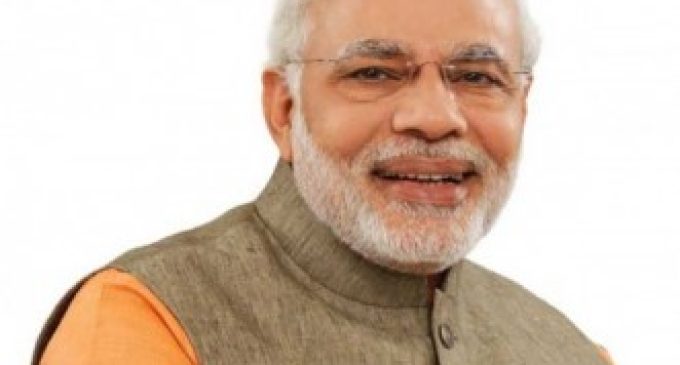 By Ashok TandonPrime Minister Narendra Modi's penchant for a pro-active foreign policy has been on display from day one. His positive initiatives of inviting SAARC leaders at the swearing-in ceremony and selecting Bhutan for his first bilateral visit followed by another important neighbour Nepal have sent encouraging signals to the world community about India's desire for constructive engagement in international affairs, especially according highest priority to peace, stability and development in the sub-continent.
Modi seems to have realised that India's GDP growth and employment potential will depend on deepening and widening the scope of liberalization and globalization. He has already stressed upon the need for enhancing bilateral trade among the SAARC countries. Currently, trade within SAARC countries is just five percent of the bloc's worldwide trade.
Modi is also keen to get more leverage for India by taking BRICS to the next level. He joined leaders of the five emerging markets – Brazil, Russia, India, China and South Africa – at the BRICS summit in Brazil July 15-17, 2014, where they launched a $100 billion development bank and a currency reserve pool as a first concrete step toward reshaping the Western-dominated international financial system.
The bank, aimed at funding infrastructure projects in developing nations, will be based in Shanghai and India will preside over its operations for the first five years, followed by Brazil and then Russia.
The BRICS summit also set up a $100 billion currency reserves pool to help countries forestall short-term liquidity pressures. The long-awaited bank will be called the New Development Bank. This development has been widely welcomed towards a multi-polar world with emerging economies becoming more dependent on one another especially regarding trade, money, and finance.
India under Modi stood firm against the Western attitude to impose their policies on developing countries through the World Trade Organisation (WTO).
India has been pressing for implementation of the Trade Facilitation Agreement (TFA) as a part of a single undertaking that includes a permanent solution on public food stockpile, necessary for its food security programme. It is stockpiling food for its poor, citing the need for food security, which is contrary to the WTO norms. The TFA is scheduled to be implemented in 2015.
As a follow up of his Independence Day call of "Make in India", Modi, during his Japan visit invited Japanese companies to join India as a "competitive low-cost manufacturing hub". He told the Japanese that "India is one of the most competitive markets in the world. There is no better place than India for Japanese investors".
During the successful Japan visit, bilateral relations were upgraded to the level of Special Strategic Global Partnership. While there was positive movement on the proposed bullet trains in India, the much-speculated India-Japan civil nuclear deal remained elusive.
India and Japan also decided to "upgrade" and "strengthen" their defence cooperation, including the need to promote collaboration in military equipment and accelerate discussions on modalities for the sale of the Japanese US-2 amphibian aircraft to India. The two sides stressed on the importance of regularizing bilateral maritime exercises as well as on Japan's continued participation in India-US Malabar series of exercises.
Visits of important foreign dignitaries from Australia, China and Britain too have helped in creating a positive investment climate in India.
Modi's coming meeting with US President Barrack Obama and his address to the UN General Assembly in New York later in September are expected to give new impetus to India's potential to play a meaningful role in promoting a new World Economic Order.
External and internal security concerns are engaging the government attention to fight terrorism, Maoists' violence and communal strife in some parts of the country.
The Modi government will have to effectively deal with Pakistan's intransigence of encouraging tension on the border through repeated ceasefire violations in Jammu and Kashmir as a part of its proxy war.
He will have to find ways to deal with the recent threats held out by the ISIS and Hafiz Saeed who have declared jihad against India and are trying to recruit local youth in their mission.
The people expect Modi to take stronger action against Pakistani infiltration from across the border. This is emerging as one of the major concerns facing the Indian security forces. The unabated ceasefire violations by Pakistan in Jammu and Kashmir need to be dealt with an effective response.
Another project on the Modi government's agenda is the promise of respectful return of the Kashmiri Pandits to the valley, from where they were driven out in the 1990s.
As far as country's defence preparedness is concerned, special attention has been given to naval defence with the commissioning of India's first indigenously-built Anti-Submarine Warfare Corvette INS Kamorta into the Indian Navy which would carry short-range Surface-to-Air missiles (SAM) and Active Towed Array Decoy System (ATDS). The 7,500 tonne guided missile destroyer INS Kolkata was also commissioned.
India has begun deploying surface-to-air Akash missiles in the northeast. This is done in the wake of growing apprehensions about China's threat. As per reports, six squadrons are being deployed to tackle Chinese jets and drones. The government had already deployed Sukhoi-30MKI fighters at Tezpur and Chabua.
A good beginning has been made but there is still a long way to go. A notable aspect of the debate is that Modi has a clear mandate and his government can easily run for a full five-year term to accomplish the task assigned to him by the people of India. By the time we reach the next general elections in 2019, Modi will have to present a complete report card of his performance and no amount of alibi or excuses will satisfy the hopeful nation.