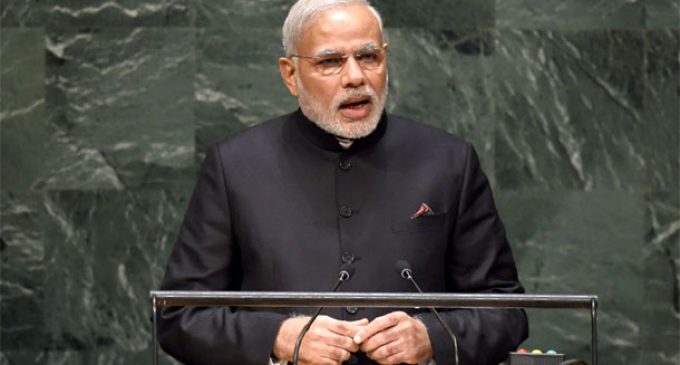 United Nations, Sep 27 Prime Minister Narendra Modi Saturday made a strong pitch for reform of the UN and called for greater engagement between countries reflective of the Indian philosophy of the world as one family.
"We must reform the United Nations, including the Security Council, and make it more democratic and participative," the prime minister said in his maiden speech to the 69th session of the UN General Assembly.
Modi referred to the Indian philosophy of "vasudeva kutumbakam" — the world is one family — and said the problems the world faces have to be solved together.
"We need a genuine dialogue and engagement between countries. I say this from the conviction of the philosophical tradition that I come from. Our efforts must begin here — in the United Nations".
He said the UN would be a 70-year-old organisation and it was time to "ask ourselves whether we should wait until we are 80 or 100" to bring changes to the world body.
"Let us fulfil our promise to reform the United Nations Security Council by 2015. Let us fulfil our pledge on a post-2015 Development Agenda so that there is new hope and belief in us around the world. Let us make 2015 also a new watershed for a sustainable world. Let it be the beginning of a new journey together."
He said "institutions that reflect the imperatives of 20th century won't be effective in the 21st".
He warned that if the reforms to the UN were not institutionalised immediately, the institution "would face the risk of irrelevance".
"We will face the risk of continuing turbulence with no one capable of addressing it."
Modi's all inclusive speech covered a range of issues including democracy, development, access to basic needs, eradication of poverty and terrorism.
He sought world cooperation to address the issues of immediate concern and said: "No one country or group of countries can determine the course of this world. There has to be a genuine international partnership. This is not just a moral position, but a practical reality."