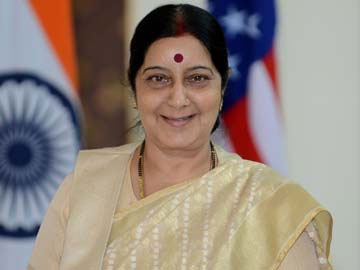 New Delhi, Sep 3 External Affairs Minister Sushma Swaraj will visit Bahrain Sep 6 and take part in the first Indian diaspora engagement meet of the year in Manama, the ministry said Wednesday.
"Sushma Swaraj is paying an official visit to Bahrain on Sep 6. This is her first official visit to Bahrain and to the Gulf region, during which she will interact with the top Bahraini leadership," said the statement from the external affairs ministry.
The meet is being organised by the Overseas Indian Facilitation Centre (OIFC), a public private partnership between the overseas Indian affairs ministry and Confederation of Indian Industry (CII) formed to facilitate the economic engagement of the Indian diaspora with India.
The meet will be attended by Bahrain's foreign affairs minister Shaikh Khalid Bin Ahmed Bin Mohd. Al Khalifa.
The statement said it was for the first time the government was organising a programme for the Indian business community and mid or high-ranking Indian officials living or working in Bahrain.
"Over 400 delegates from Bahrain are expected to participate in the meet, which will include high net-worth members of the Indian community in Bahrain, senior or middle level Indian employees playing an important role in its operations of established Bahraini business organisations, and Bahraini entrepreneurs/businessmen," the statement said.
On this initiative, India's Ambassador to Bahrain Mohan Kumar said: "Delighted that OIFC has decided to have this meet in Bahrain for the first time. Given the ease of doing business in Bahrain, the meet is both timely and appropriate."