New Delhi, Aug 20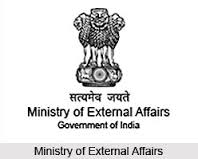 In a clear rebuff to Pakistan, India's external affairs ministry Wednesday said that following the Simla Agreement of 1972, India and Pakistan were the only two stakeholders on the issue of Jammu and Kashmir and "none else".
Ministry spokesperson Syed Akbaruddin wrote on Twitter: "Following Simla Agreement there are only 2 'stakeholders' on the issue of Jammu & Kashmir – India & Pakistan. None else."
"An approach different to the one laid down in the Simla Agreement & Lahore Declaration does not yield results in India-Pakistan relations," he said.
Akbaruddin's statement came in reaction to Pakistan High Commissioner Abdul Basit saying that his meeting with Kashmiri separatists Monday and Tuesday was "a long-standing practice" and "it is important to engage with all stakeholders".
On the Pakistan high commissioner saying that he met the Hurriyat leaders because they were the representatives of the people of Jammu and Kashmir, and stakeholders in the Kashmir issue, Akbaruddin said the Simla Agreement "is a principle which is the bedrock of our bilateral relations. This was reaffirmed in the Lahore Declaration of 1999 between Prime Minister Nawaz Sharif and Prime Minister Atal Bihari Vajpayee".
He said Pakistan had given assurance to India "at the highest level, that they were committed to a peaceful dialogue on the issue of Jammu and Kashmir and they would not allow Pakistan or territories under its control to be used for terrorism against us".
"We know now, particularly after the Mumbai terror attacks and the manner in which Pakistan has pursued subsequent investigations and trials, that this assurance had no meaning and that an approach that is different to the one laid down by the Simla Agreement and Lahore Declaration does not yield results."
Basit said his meeting with the Hurriyat leaders was "to find a viable solution to the Kashmir issue".
"It was in the larger context of exploring peaceful means towards resolving the issue. This has been a long standing practice, I have nothing more to add to this," Basit said.
"Kashmiris are legitimate stakeholders in finding a peaceful solution to the issue. We had been meeting Kashmiri leaders for the past 20 years. The objective of this interaction is to engage all stakeholders in order to find a viable, peaceful solution to the problem," Basit said in an interaction at the Foreign Correspondents Club here.
Basit also stressed on the need to look at the Kashmir issue "dispassionately and in a more realistic manner".
On Tuesday, Basit met hardline Hurriyat leader Syed Ali Shah Geelani and moderate leader Mirwaiz Umer Farooq, a day after India called off foreign secretary-level talks with Pakistan over the issue.
He also met Jammu and Kashmir Liberation Front leader Mohammad Yasin Malik.
In Islamabad, Pakistan Foreign Office spokesperson Tasnim Aslam said Pakistan was "not subservient to India. It is a sovereign country and a legitimate stakeholder in the Jammu and Kashmir dispute".
Aslam also asserted that "Kashmir is not part of India. It is a disputed territory".
India called off the foreign secretary-level talks scheduled for Aug 25 over Basit holding talks with Kashmiri separatist leaders despite Islamabad being asked not to.
Pakistan described the decision to cancel the talks as a setback to its efforts to promote good neighbourly relations.