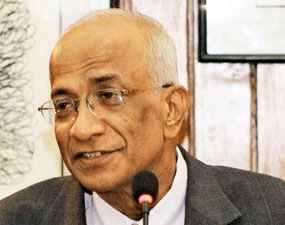 New Delhi, Aug 14 Key connectivity projects between India's landlocked northeast and Myanmar, which forms a crucial part of India's Look East Policy, need to be completed on time for boosting trade and partnership between India and the booming Southeast Asian region, especially with China stealing a march, experts said here Thursday.
Releasing a report titled "Transforming Connectivity Corridors between India and Myanmar into Development Corridors", top officials and experts said that Myanmar, which shares an over 1,600 km border with four northeastern states, is a key part of the development of India's northeast.
V.S. Seshadri, India's former ambassador to Myanmar, who formulated the report said the timelines of the Trilateral Highway and the Kaladan Multi-modal projects need to be straightened out fast, especially with democracy taking firmer roots in Myanmar and its economy opening up. Both projects are officially set to be completed by 2016.
He pointed out that land border trade between India and Myanmar is much lower than between Myanmar and China. While formal land border trade between Moreh in Manipur and Tamu in Myanmar and Zokhawthar in Mizoram with Rhi in Myanmar amounts to around $35 million, the two-way trade between Muse in Myanmar and Jingao in China is worth over $2 billion.
The condition of roads on the Chinese side, in its Yunnan province, is also much better with double-laned roads. "China has several 22-wheeled tractor trucks parked on its side of the border which it uses to transport goods to Myanmar that exports mainly agricultural goods, like rice," said Seshadri.
However, informal land border trade between India and Myanmar is thriving with people of both sides, including women, carrying headloads of goods across small river borders. This trade is said to be approximately worth Rs.35 billion ($573 million).
Another factor, said Seshadri, is that in Namphalong Market in Tamu in Myanmar there are around 1,000 shops stocked with goods like toys, confectionery, blankets, agricultural produce, and the market is bustling. But there is no market on the Indian side in Moreh, Manipur. He said "greater predictability and stability" is required to boost land border trade between the two countries.
The former envoy said there is a realisation in Myanmar that its western sector, especially Rakhine state, that borders India, needs rapid development and that it "would welcome India taking the initiative in boosting development".
He also suggested that a broad gauge rail line that is supposed to be built in Imphal by 2018 could be extended to Moreh and then on to Kalay in Myanmar's Sagaing division with international funding. "It will be a crucial link in connectivity," he said.
There is a proposal to develop Moreh in Manipur into a major township, equipped with hospitals, educational institutes, banking facilities etc. that would go a long way in boosting connectivity and trade, he said. An Integrated Check Post is set to come up at Moreh by the end of a year, he said.
Besides, Special Economic Zones could be set up in Mizoram and Manipur bordering Myanmar to boost trade, the report by Research and Information System (RIS) for Developing Countries suggests.
Minister of State for External Affairs and Development of the Northeastern Region V.K. Singh, in a statement that was read out, said development of the northeast is "organically and intrinsically" linked with Southeast Asia and that Myanmar is "key to development of the Northeast".
Sujata Mehta, Secretary, Economic Relations in the external affairs ministry, who read out the minister's statement, expressed hope that the report would be of enduring value.
RIS chairperson and former foreign secretary Shyam Saran said Myanmar is the gateway to Southeast Asia and shares border with four sensitive northeast Indian states. He suggested that, with Myanmar opening up economically and moving towards a democratic framework, the government should take prompt action to push through the connectivity projects to transform them into development corridors.