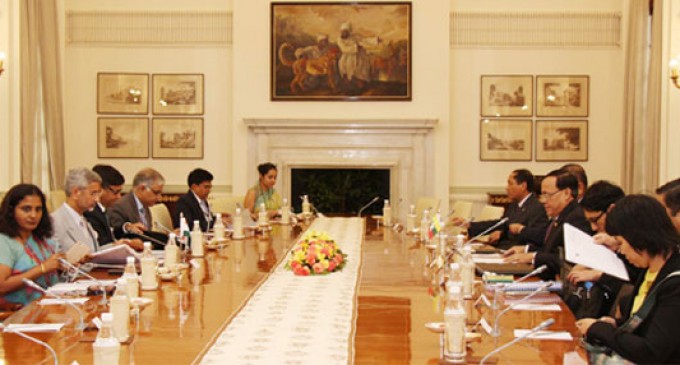 New Delhi, Aug 10 (IANS) India and Myanmar reviewed the entire gamut of bilateral issues during the 15th round of Foreign Office Consultations here, the External Affairs Ministry said on Wednesday.
The discussions, held on Tuesday, were led by Foreign Secretary S. Jaishankar on the Indian side and Minister of State for Foreign Affairs U Kyaw Tin on the Myanmar side.
"During the discussions, the two sides reviewed the entire gamut of bilateral relations, including high level visits, security and defence-related issues, boundary matters and border management, trade and commerce, development cooperation, connectivity, cultural and consular matters," the External Affairs Ministry said in a statement.
"They also exchanged views on issues of mutual interest at regional and multilateral forums," it said.
The consultations were of special significance as these were the first institutionalised exchange between India and Myanmar after the swearing in of the new government of Aung San Suu Kyi's National League for Democracy in Myanmar on March 30 this year.
In the intervening period, National Security Advisor Ajit Doval visited Myanmar as a special envoy of Prime Minister Narendra Modi on June 16, 2016 and of Minister of State for Commerce and Industry Nirmala Sitharaman led a high-level business delegation to the eastern neighbour for the India-Myanmar Business Conclave on May 18-20, 2016.
Last month, in a meeting with Minister of State fort External Affairs on the sidelines of the Association of Southeast Asian Nations (Asean) Foreign Ministers' Meeting, Suu Kyi said that she looked forward to visiting India.
As her country's constitution bars her from becoming President, the Nobel peace laureate serves as the State Counsellor and Foreign Minister.