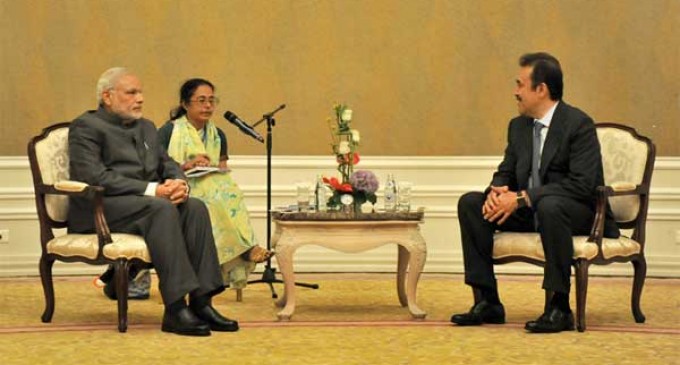 Astana, July 8  Prime Minister Narendra Modi and Kazakhstan premier Karim Massimov on Tuesday launched the first exploratory drilling of the Satpayev oil block by India's OVL and KazMunaiGaz.
The two leaders launched the drilling through live video conferencing.
ONGC Videsh Ltd. (OVL) — the overseas arm of state-run ONGC — had in 2011 picked up 25 percent stake in the Satpayev oil block in the North Caspian Sea.
ONGC Videsh has committed to investing $400 million in exploration in the block.
It will also pay $80 million to Kazakhstan's KazMunaiGas as a one-time assignment fee.
OVL paid $13 million as a signing amount for a 25 percent stake in Satpayev in 2011.
The Satpayev oil block is an offshore field in the Northern Caspian sea, with potential reserves estimated at 1.8 billion barrels.
India is to conduct a feasibility study on importing crude oil and gas from Kazakhstan either through a pipeline or as liquid natural gas in ships. The hydrocarbons can be brought first to Iran via the Caspian Sea and transported across the country through a pipeline.
The opening of the Iran-Turkmenistan-Kazakhstan railway link is also being explored to transport oil and gas to India. The rail corridor could eventually be linked to the International North-South Transport Corridor (INSTC), which is set to connect Mumbai with St. Petersburg.
The Iran, Turkmenistan and Kazakhstan railway line was inaugurated on December 3 last year.
The railway line includes 140 km in Kazakhstan and 85 km in Iran. Agreed in 2007 and under construction since 2009, the route opens up a direct rail connection between the three countries to the east of the Caspian Sea.
The railway line is expected to carry transit traffic between Central Asia and the Persian Gulf, as well as oil and agricultural produce.