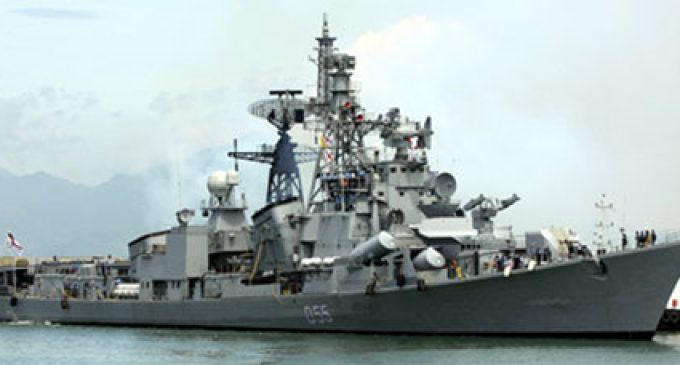 New Delhi, July 24 Exercise Malabar involving the Indian and US navies as well as the Japanese navy this year began off Japan Thursday with the goal of advancing the level of understanding between the three forces.
According to a Indian defence ministry release, Exercise Malabar is a complex, high-end operational exercise that has grown in scope and complexity over the years. Malabar 2014 is the latest in a continuing series of exercises conducted to enhance multinational maritime relationships and mutual security issues.
The exercise will feature both onshore and at sea training.
While ashore at Port Sasebo, Japan from July 24 to 26, the interactions will include professional exchanges on carrier strike group operations, maritime patrol and reconnaissance operations, anti-piracy operations and Visit, Board, Search and Seizure (VBSS) operations.
Three Indian Navy ships – guided missile destroyer INS Ranvijay, stealth frigate INS Shivalik and fleet tanker INS Shakti had reached Port Sasebo Wednesday for participating in the exercise.
The sea phase of the exercise, scheduled July 27-July 30, will be conducted in the western Pacific Ocean, and is planned to include search and rescue exercises, helicopter cross-deck landings, underway replenishments, gunnery and anti-submarine warfare exercises, VBSS operations and liaison officer exchange and embarkation.
Designed to enhance maritime cooperation among the navies of the participating nations, these exercises further hone individual capacity to conduct operations in a multi-national environment, the statement said, noting the Indian, Japanese and US navies have a common understanding and knowledge of a shared working environment at sea.
"This exercise would further help advance the level of understanding among the navies," it said.
Two destroyers along with a P3C Orion and a sea-plane (US-2) are participating from the Japanese Navy, while the US Navy has deployed a nuclear submarine, two destroyers, a tanker along with one MR aircraft are taking part. One US Carrier Strike group (CSG) is likely to join for the sea phase of the exercise.
Malabar is a regular Indian Navy-US bilateral naval field training exercise, which has witnessed broadening of scope and complexity since it began in 1992.
India had invited Japan to join this year exercise during Japanese Prime Minister Shinzo Abe's visit earlier this year. Japan has in the past also taken part in the Malabar exercise.