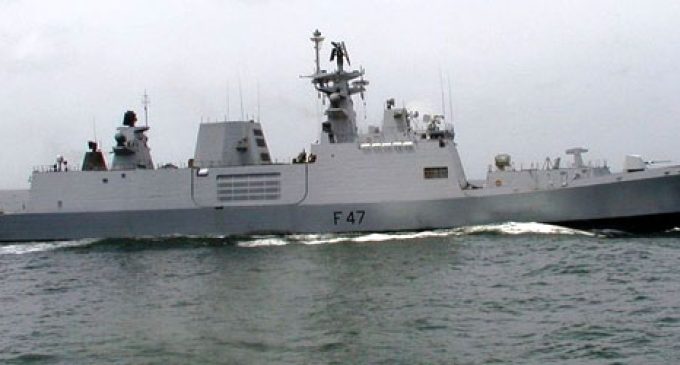 New Delhi, Aug 5 Indian Navy warship INS Shivalik has reached the Hai Phong port in Vietnam on a three-day goodwill visit for improving inter-operability between the two navies.
The warship is among three frontline vessels operating in the South China Sea and Western Pacific for the past few weeks as a demonstration of India's operational reach.
A navy release Tuesday said the three warships earlier participated in the India-Russian bilateral naval exercise INDRA 14 and the trilateral naval exercise MALABAR 14 with the US and Japanese navies in the northwest Pacific Ocean and the Sea of Japan.
"In a fine demonstration of the operational reach and pursuit of India's 'Look East' policy, Indian Navy's Eastern Fleet, under the Command of Rear Admiral Atul Kumar Jain, Flag Officer Commanding Eastern Fleet, is on an operational deployment to the South China Sea and the North Western Pacific region," the release said.
As a part of this deployment, the INS Shivalik, a guided missile stealth frigate, reached Hai Phong on a three-day goodwill visit.
The deployment of Indian Navy vessels in the South China Sea comes at a time when Beijing's aggressive posturing in the resource-rich waters has attracted global attention.
China has in the past indicated its opposition to India engaging in oil and gas exploration projects in the South China Sea.
Vietnam last year offered India seven oil blocks in the South China Sea, including three on an exclusive basis.
The navy release said the visit of the Indian vessel is aimed at strengthening bilateral ties and enhancing inter-operability between navies of India and Vietnam.
During the warship's stay in harbour, there would be interaction between personnel of both the navies.
Before leaving, the ship will take part in an exercise with Vietnamese naval ships for improving inter-operability in communication, search and rescue procedures.
The Eastern Fleet had earlier visited Hai Phong in May 2012.
The release said the warship along with two others – the INS Ranvijay, a guided missile destroyer, and the INS Shakti, a fleet-support ship – would return to India in the middle of August after a two-month deployment.