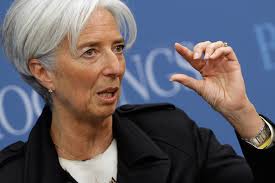 Brasilia, July 17 The International Monetary Fund (IMF) has congratulated the five BRICS countries for having created a reserves fund and said it is looking forward to working with it.
"I would like to congratulate you on hosting a successful meeting of the BRICS leaders in Fortaleza, Brazil, and especially on establishing the Contingent Reserve Arrangement," IMF managing director Christine Lagarde said in a message to President Dilma Rousseff of Brazil.
"IMF staff would be delighted to work with the BRICS team dedicated to this project with a view to reinforcing the cooperation among all parts of the international safety net intended to preserve financial stability in the world," Lagarde added.
At their Fortaleza summit in Brazil, leaders of the five countries signed a memorandum establishing the Contingent Reserve Arrangement (CRA) — a $100 billion contingency fund, which members can draw on in financial emergencies when their foreign exchange reserves become dangerously depleted.
Legarde said the IMF has a very strong relationship with all the BRICS nations, which are key members of this institution. "We look forward to further strengthening our collaboration."
Last year in Durban, the BRICS leaders had decided to create the CRA.