Kathmandu, Aug 3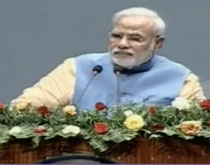 Indian Prime Minister Narendra Modi won the hearts of millions in Nepal Sunday when he began his address to parliament in Nepali, describing himself as "a good friend of Nepal".
Taking most people by surprise over his choice of language, Modi told the country's parliament that he was very happy to be in Nepal.
"Years back, I came here for pilgrimage. There is a popular saying that once you visit Nepal, your entire life will be changed," Modi said, as MPs clapped.
"I am coming back here as a good friend of Nepal, to this beautiful country," he said, adding it was fortunate he was now in Kathmandu in the capacity of India's prime minister.
"As soon as I entered the Prime Minister's Office, I made up my mind to give Nepal the highest priority. That is why I am here. I really thank you for inviting me," he said, drawing more applause.
The Indian leader gave the rest of his speech in Hindi, a language widely understood and spoken in Nepal.