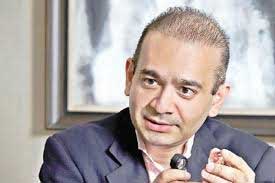 New Delhi, June 14 (IANS) The Enforcement Directorate (ED) has requested the Interpol to issue Red Corner Notice (RCN) against absconding diamentiare Nirav Modi in connection with its probe into the Rs 13,500 crore Punjab National Bank (PNB) fraud case, agency sources said.
An ED source said that the financial probe agency has written to the Interpol requesting to issue the RCN, a request to locate and provisionally arrest an individual pending extradition. It is issued by the General Secretariat at the request of a member country or an international tribunal based on a valid national arrest warrant.
The agency's move comes in the wake of the charge sheet it filed against 23 people including Nirav Modi in a special court in Mumbai.
A non-bailable warrant was issued against Nirav Modi and 10 other accused, including his family members, in the case related to the fraud, after taking cognisance of a charge sheet filed against them by the ED last month.
The ED had last week moved the special court seeking warrants against the accused, and Special Prevention of Money Laundering Act (PMLA). It has charged the accused under various sections of the Indian Penal Code and the PMLA in the case.
The charge sheet or the prosecution complaint — running in about 12,000 pages — names Nirav Modi, his sister Purvi Mehta, brother-in-law Maiank Mehta, brother Neeshal Modi, relative Nehal Modi, father Deepak Modi and 18 others.
Nirav Modi's three firms — Solar Exports, Stellar Diamonds and Diamonds R US — which had fraudulently obtained Rs 6,498 crore through LoUs issued by the Mumbai's Brady House Branch of PNB were also named in the charge sheet.
The charge sheet said the funds so obtained by these firms were partly utilised for payment to various overseas companies and also for offsetting earlier LoUs.
The diamantaire left India with his family around a month before PNB filed its first complaint with the Central Bureau of Investigation (CBI) in the fraud at the beginning of this year.