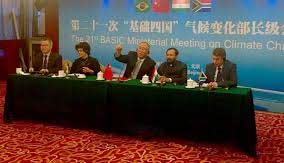 Paris, Nov 29 Nearly 150 global leaders are set to gather here on Sunday for a critical UN climate meeting.
COP 21 – the 21st session of the Conference of the Parties – starts from Monday and will end on December 11, BBC reported.
It will see more than 190 nations gather in Paris to discuss a possible new global agreement on climate change, aimed at reducing greenhouse gas emissions to avoid the threat of dangerous warming due to human activities.
Around 40,000 people are expected to participate in the event, set to be far bigger than the 115 or so who came to Copenhagen in 2009, the last time the world came close to agreeing on a long term deal on climate change.
Delegates are in little doubt that the shadow cast over the French capital by the terror attacks of November 13 that killed 130 people will enhance the chances of a climate agreement.
"I believe that it will make a deal more likely because what I feel from the parties is that they are very eager to move," said Amjad Abdulla from the Maldives, who chairs the Alliance of Small Island States in the negotiations.
BBC said there will be tight security all across France ahead of the summit.
A total of 8,000 police and gendarmes will carry out border checks. Another 2,800 security personnel were deployed at the conference venue at Le Bourget north of Paris.
Some major roads in the capital will remain closed for two days.