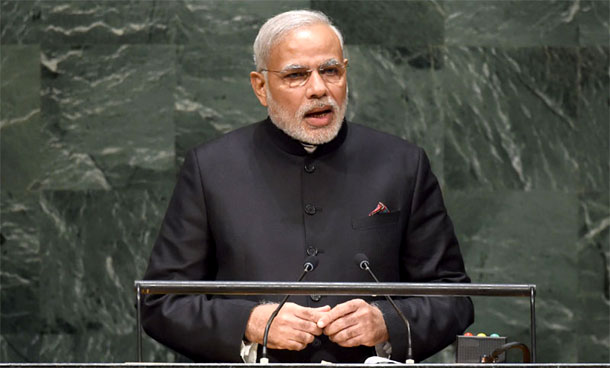 United Nations, Sep 27 In a tongue-in-cheek reference to the numerous blocs of nations that have cropped up, Prime Minister Narendra Modi Saturday said at the UN that the world, instead of becoming interdependent, "operates in various Gs with different numbers".
In his inaugural address to the UN General Assembly, Modi said "the need for an international compact, which is the foundation of the United Nations, is stronger than before".
"While we speak of an interdependent world, have we become more united as nations? Today, we still operate in various Gs with different numbers. India, too, is involved in several. But, how much are we able to work together as G1 or G-All?," he wondered.
He said that "on one side, we say that our destinies are inter-linked, on the other hand we still think in terms of zero sum game".
"If the other benefits, I stand to lose," he stated.
"It is easy to be cynical and say nothing will change but if we do that, we run the risk of shirking our responsibilities and we put our collective future in danger," Modi cautioned.
"Let us bring ourselves in tune with the call of our times. First, let us work for genuine peace.
"No one country or group of countries can determine the course of this world. There has to be a genuine international partnership. This is not just a moral position, but a practical one," the prime minister said.