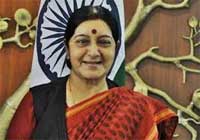 New Delhi, July 18  External Affairs Minister Sushma Swaraj Thursday called upon NRIs to work for the reconstruction of the country, and said Indians living abroad endorse the NDA government as their "own".
"The NDA government is the first government which NRIs endorse as their own. We want the NRIs to work with us for the progress of our nation," Sushma Swaraj said in the first Baleshwar Agrawal memorial lecture at the India International Centre here.
She said NRIs played an important role in the victory of the Bharatiya Janata Party-led National Democratic Alliance (NDA) in the general election.
"The NRIs were crucial in our victory. They assisted us by coming here and from abroad as well. It is our duty that we will have to live up to their expectations," Sushma Swaraj said.
She said it was only during the previous NDA government of 1998-2004 that NRIs earned their rightful place in foreign countries.
"After the first NDA government came to power, India became an IT power which enabled NRIs to live with dignity and recognition," Sushma Swaraj said during the lecture titled "Diaspora policy of the government of India". Baleshwar Agarwal, a veteran journalist, was a former managing editor of the now defunct Hindustan Samachar Hindi news agency. He died in May 2013 aged 91.
She said the government was giving final shape to a Rs.94-crore NRI building project.
"By Jan 9, when we mark Pravasi Bharatiya Divas, the building would be ready for inauguration," she said.
She said her ministry was contemplating an immigration bill which would take all such people to task who lure other people with false promises of jobs abroad and issue fake visas.
"If there is any trouble to any Indian in any country, India should be ready to come to help," Sushma Swaraj said, adding that this would be the basis of her NRI policy.
She lamented that because of the "policy paralysis" of the previous UPA government, the success story of India was being written off.
She expressed hope that with its strong initiatives, the current government would regain India's global position.
L.K. Advani, who presided over the lecture, said the government should be prepared to permanently solve the issues of blue collar Indian workers who face multiple problems in other countries.
"It is the duty of the government to serve Indians, the ones who are living here as well as those who are living abroad," Advani said.