Bangalore, Aug 9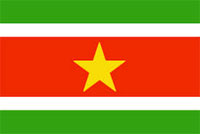 South America's smallest sovereign country Suriname Saturday opened a consulate here and appointed industrialist Asif Iqbal as its honorary consul for south India, with consular jurisdiction over Karnataka and Andhra Pradesh.
Iqbal is the executive director of the Latin American Caribbean Federation of India and president of the Defence Technology Infrastructure Society of India.
"The Indian external affairs ministry has conveyed the concurrence of the president (Pranab Mukherjee) to the appointment of Iqbal as Suriname's consul for south India," Suriname's Ambassador to India Aashna Wandana Kanhai said on the occasion.
The consulate will assist Suriname's nationals and Indians travelling to the country to visit their families.
About 40 percent of Suriname's population is of British Indian descent which had migrated to the country in 1873.
With around 37 percent Indian population, Suriname was a Dutch colony till 1975.
Many Indians from the northern states of Uttar Pradesh and Bihar also migrated to Suriname over the years and speak Dutch and Bhojpuri, a dialect of Hindi.
Surrounded by French Guyana to the east, Guyana to the west, Brazil to the south and Atlantic Sea to the north, the country's Indian diaspora speaks Dutch and celebrates their festivals like Holi and Diwali with pomp.
"The warm hearts of Suriname's multi-ethnic citizens are open to the world. The special trade between our two countries, which was initially run by the Indian diaspora, has grown into a mature structure of cultural, economic and political cooperation," Kanhai said.
Suriname also has the largest deposits of bauxite and aluminium and the world's largest rain-forests, covering 80 percent of its landmass.
"The appointment of a consul will facilitate trade delegations visit to Suriname for exploring business opportunities by the Indo-Suriname Chamber of Commerce," Kanhai said.
State-run Hindustan Aeronautics Ltd (HAL) has sold three Chetak helicopters to Suriname and its pilots are undergoing training at its facility in the city.