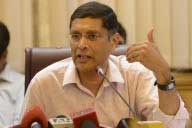 Bengaluru, June 24  Stable crude oil prices in the international markets would help India manage its macro-economy well, chief economic advisor Arvind Subramanian has said.
"I do not see oil prices going beyond $80-85 a barrel (about 160 litres), given the fundamental changes in the market. If oil prices remain steady even at that ($80-85) level, I think we can manage the economy well," Subramanian said at a function here late Monday.
Crude oil prices (Brent and Nymex) plunged to $45 from a high of $118 over the past one year but recovered steadily to hover currently around $63 per barrel.
Coinciding with the decline in the oil prices, demand had also come down as evident from loser imports in April-May.
"Besides decline in our oil import bill, we have seen fundamental shifts in the international market, which has helped crude oil prices remain steady," Subramanian said in a lecture at the Indian Institute for Human Settlement.
On the flip side, he expressed concern over decline in exports even from the services sector, including software products, which led to its (exports) share in the national gross domestic product (GDP) dip substantially.
"A fall in share of export of goods and services is worrisome. Though sluggish exports in the manufacturing sector is part of global slowdown, decline in export of software services and products from 30 percent per annum in dollar terms over the last eight years is a matter of concern," Subramanian noted.
On the bullion front too, gold prices also stabilised after a long volatile movement in the domestic and international markets, as demand subdued.
"Gold prices more or less stabilised in May and June, as demand for the yellow metal softened, especially, as a saving instrument after inflation dipped and stock markets became attractive," Subramanian said.
Sharing his outlook on the economy this fiscal and next, he said key indicators were good in short term, thanks to reform plans, lower inflation and oil prices.
"The country's economy is poised to grow at 8-8.5 percent next fiscal as given in the Economy Survey for this fiscal. We (India) are among the bright spots for investments compared to other countries," he added.