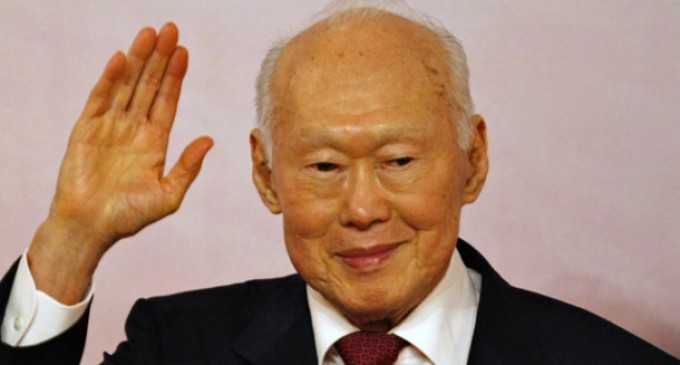 Singapore, March 29 The funeral of Singapore's founder and first prime minister Lee Kuan Yew was held on Sunday with Indian Prime Minister Narendra Modi describing him as "among the tallest leaders of our times" and a friend of India.
Lee, 91, died on March 23 at the Singapore General Hospital where he was warded for severe pneumonia since February 5.
Modi was among the world leaders who gathered here to pay their last respects to Lee, who nurtured a sleepy port city since its separation from Malaysia in 1965 to turn into one of the richest city states.
"The passing away of Lee Kuan Yew marks the end of an era. He was among the tallest leaders of our times," Modi told the media.
"He was a global thinker who saw things ahead of others. He was an advocate of economic progress, but also made tireless efforts to advance peace and stability in our region," he added.
Stating that Lee's personal life was an "inspiration for many like me", the prime minister wrote in the condolence book: "He (Lee) was a torchbearer of hope, not just for Singapore, but for all of Asia."
"Today, the flame is no more, but this was a torch that lit the lamp of hope in many new nations. As long as these lamps flicker, he will continue to inspire, eternally."
"…I bow to this committed Karma Yogi, this great man. On behalf of all Indians, I pay homage to him."
Over 1.4 million people came to pay their last respects to Lee on Sunday, according to a source at the funeral's organising committee.
About 415,000 people came to pay their homage to the late prime minister in the four days while his body lay in state in parliament's building from March 25 to 28.
Sunday's programme began with his casket being carried out of Parliament House and taken in a funeral procession to the University Cultural Centre (UCC) located at the National University of Singapore (NUS) for the funeral service even as the skies opened up.
Officers marched in the rain, escorting Lee's casket as the procession moved out of Parliament House.
Hundreds of onlookers gathered in the streets to bid farewell to the founding father of Singapore.
At the funeral service in UCC, in a moving eulogy, Singapore Prime Minister Lee Hsien Loong, who is Lee Kuan Yew's eldest son, said: "The light that has guided us all these years has been extinguished."
"This has been a dark week for Singapore," he said.
"From the ashes of separation he built a nation."
Paying his tributes, Indian-orgin trade unionist G. Muthukumarasamy on Sunday acknowledged that the late leader helped improve the fiancial status of the ethnic Indian community in the city state.
Muthukumarasamy recounted how, when he was young, his father would often tell him about Singapore's founding father, the Straits Times reported.
"Lee saw the hardships experienced by the Indian community at the time and he was determined to help and make a difference," Muthukumarasamy said in Tamil in his eulogy at the funeral.
"During those days, most Indian families had single incomes because they did not allow their women to work."
He credited Lee for encouraging Indian women to join the workforce, to learn a skill and help their families financially.
Ethnic Indians comprise a little over 9 percent of Singapore's total population of 3.9 million.
Former cabinet minister S. Dhanabalan, a Tamil, in his eulogy described Lee as truly the "Father of Singapore".
Dhanabalan said that while Lee could be seen as a hard hearted man, he had agonised over his decisions in private.
Dhanabalan also highlighted how much energy Lee put into preparing his younger Cabinet colleagues for the responsibilities ahead.
Singapore President Tony Tan Keng Yam said there will never be another Lee Kuan Yew.
"Over the past week, we have mourned the passing of a man and an era. There will never be another Lee Kuan Yew," he said towards the end of his eulogy.
"No one person can take his place nor do what he did."
The funeral service ended with Prime Minister Lee Hsien Loong laying a wreath on behalf of the family. Lee Kuan Yew's wife, Kwa Geok Choo, had passed away in 2010.
President Tony Tan Keng Yam laid a wreath on behalf of the state.
A minute of silence was observed all across Singapore once the service ended followed by the playing of the national anthem and pledge.
The cortege then moved from the UCC to Mandai crematorium for a private service.
Apart from India's Modi, among the galaxy of leaders who attened the funeral service were former US president Bill Clinton, Japanese Prime Minister Shinzo Abe and Australian Prime Minister Tony Abbott.