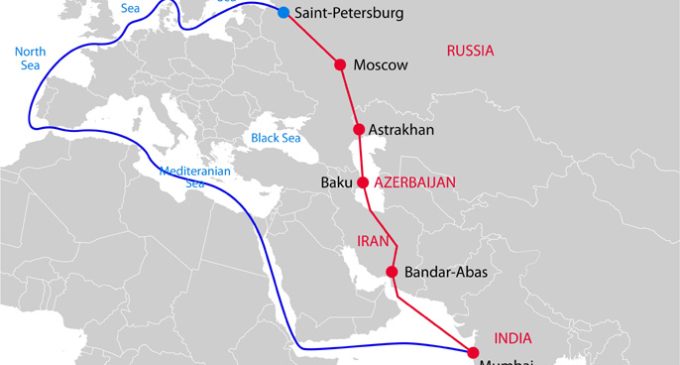 New Delhi, Dec 5 (IANS) Having acceded to the United Nations' convention on international transport of goods, India will ship its first consignment to Russia or Turkey via Iran on January 15, cutting down the transport cost and time by half.
"There is a lot of hope in the industry that this will be quite a game changer as far as Indian exports are concerned particularly to Russia and Central Asia," Central Board of Excise and Customs (CBEC) Commissioner Sandeep Kumar told media here on Tuesday.
He added that the move would also help in operationalising the International North-South Transport Corridor, which has been languishing for years.
India acceded to the Transports Internationaux Routiers (TIR) convention — the global customs transit system for moving goods across international borders — on June 15 this year. The convention would formally come into effect for India — six months after the date of accession — on December 16.
"Maybe around January 15 or 16 — given cooperation from some trading intermediaries and logistics partners — we will actually be able to use this convention to export goods to Russia or Turkey via Iran," the CBEC Commissioner (Customs and Export Promotion) said.
Kumar added that as per a dry-run conducted as a proof of concept, exporters would save around 50 per cent in terms of cost of transport as well as in terms of time.
With TIR, goods crossing international frontiers would be exempted from any duties or guarantees with all customs checks done at the origin and the destination instead of each frontier. The agreement would also ensure that trusting administrations would accept each other's control systems so they don't have to repeatedly examine the goods.
The CBEC Commissioner said the idea was, in fact, born from a summit level meeting between India and Russia where the possibility of an International North-South Transport Corridor was discussed.
"The idea was that instead of sending goods around the Cape of Good Hope, Europe and up there in the north, can you export them through Iran and other Central Asian countries via the Caspian Sea to Russia."
Kumar said the challenge was crossing three or four international borders.
"We thought if things could get better at international borders in terms of documentation and processes, then this route would make tremendous amount of economic sense.
"With TIR, you can actually cross international borders without having to file declarations that are required under the national law of each country, and you don't have to give bank guarantees as you cross different frontiers," Kumar said.
FICCI Secretary General Sanjaya Baru expressed hope that the convention would not only boost India's trade relations on the western front, but also on the eastern front with Bangladesh and other nations.
FICCI has been appointed by the CBEC as the National Guaranteeing Association for the operation of TIR system in India.
Source : Sarkaritel.com