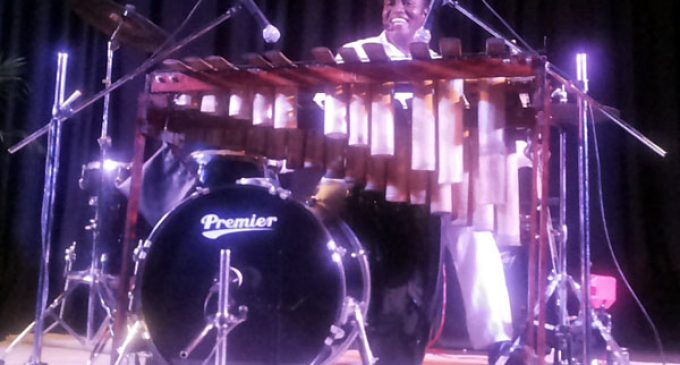 By TN Ashok    Diplomatic Editor
New Delhi, August 04: The Colombian Embassy in India today launched its National Celebrations in the capital with a cultural event with its fusion artist Carlos Balanta playing a combination of rhythm and blues and folk music with a distinctive latino African touch and regaling a distinguished audience at the india international centre.
A One man ensemble , Carlos played the bass guitar, xylophone, flute and the drums including the bongos with consummate ease with himself supplying the vocals in melodious Spanish that saw the audience foot tapping and clapping throughout his more than one hour concert.
To top his concert were a trio of dancers – two women and a man – who did the salsa to rhythmic beats from Balantas percussion instruments drawing repeated applause from the audience.
Wanting audience participation, Balanta had the gathering up on their feet first clapping and singing in chorus after him and later in a freewheeling gyrating dance on the stage with him.
Dressed in whites with a fedora to cap, Balanta never seemed tired as he performed for an extended period as the audience wanted " Dil Mange More ( the heart wants more). A major highlight was his doing an extraordinary percussion number on an inflated balloon with a steel brush that amazed the audience with a flowing cadence of rhythmic beats. A tiny tot joined him to play on the balloon to charm the audience and had the honour of bursting it to signal the end of the balloon percussion.
Balanta hails from Santander de Quichao and his musical journey began early at the age of 12 playing drums and marimba at local festivals. He achieved nation-wide recognition in 2012 when the reality TV show "Colombia's Got Talent" introduced him on national television.
The multi-instrumentalist Colombian artist, whose passion is to blend folk music with contemporary sounds, has been invited to perform and run workshops in international conferences and festivals in Croatia, France, Bolivia, Turkey, Peru and Ecuador. India is the new feather in his cap, courtesy the ambassador of Colombia in India.
Balanta told DiplomacyIndia.com that from childhood he had been fascinated by music and always wanted to play on the world stage for which he made the beginning when he was barely 12 years. " I just loved the Indian audience who sang with me and made my visit quite profound", he said wishing he could spend more time in India but had to rush back as he had been specially invited to play at the swearing in ceremony of the new Colombian President Juan Manuel Santos on August 07.
The audience comprised the diplomatic corps from the Latin American countries and Indian foreign office besides distinguished Indian citizens who later attended a reception hosted by the Colombian Ambassador in India Mrs. Mónica Lanzetta. she introduced Carlos Balanta to the audience as one of Colombia's favourite and celebrated one man musical ensemble, as he plays all instruments himself.