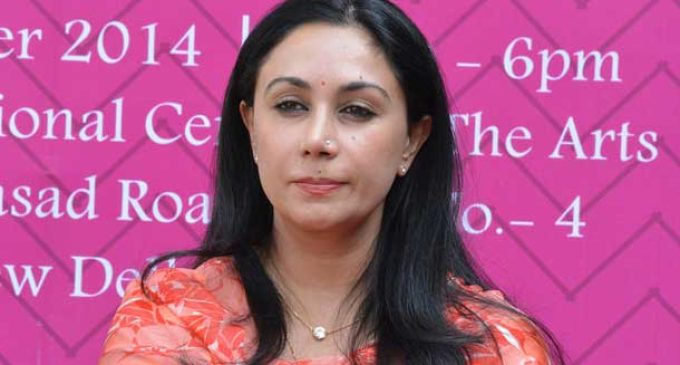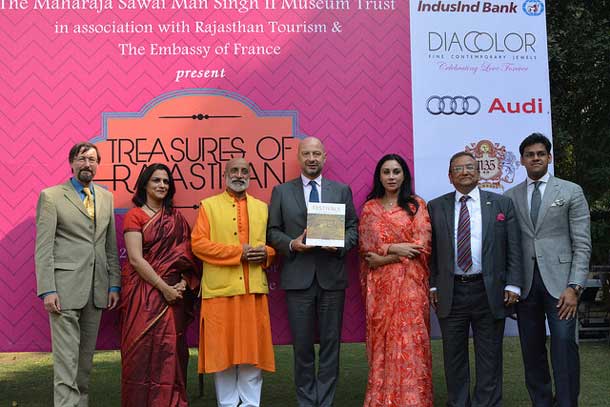 By TN Ashok, Diplomatic Editor
New Delhi, Nov 20 : Rajasthan Chief Minister Ms Vasunndhara Raje will open a two day exposition on the Treasures of Rajasthan at the Indira Gandhi national Centre for Arts here in the capital tomorrow depicting the state's heritage travel , luxury craftwork and fine arts.
The Life style exhibition will bring alive the magic of vibrant Rajasthan with  with "Treasures of Rajasthan Season II" on 21-22 November 2014 thanks to  Maharaja Sawai Man Singh II Museum Trust represented by its trustee Ms Diya Kumari.
Princess Diya Sawai Man Singh.,  the princess in the royal lineage of Maharaja Sawai Bhawani Singh of Jaipur, recalled how her father had taken the initiative in reviving the unique and exquisite cultural craftsmanship of Rajasthan, an endeavour that has helped change the lives of many a skilled artisan,  a cause she dearly espouses.
Diya Kumari  said, "The exhibition aims to encourage and revive the state's languishing arts and crafts and is an extension of my endeavour to not just keep the crafts alive but to also provide a means of livelihood to its practitioners. It is also a continuation of a family tradition of promoting arts and crafts, started way back in the 18th century by Maharaja Sawai Man Singh II, who set up 36 karkhanas or state-patronized ateliers of different crafts. I feel duty-bound to preserve and promote my cultural inheritance."
Backing the event, French Ambassador in India Francois Richier said, "Given the similarities between India and France, with their rich cultural histories, exquisite craftsmanship, and love for heritage, the Embassy of France in India is lending its support to Treasures of Rajasthan Season II. The Embassy will help promote the exchange of ideas in these areas and on the revival of the arts. In future, we also hope to link palaces and forts in Rajasthan with castles, palaces and chateaux in France to take forward our shared interest in the preservation and promotion of our cultural heritage."
Divya Kumari of Jaipur said empowering women and providing them with a platform to showcase their traditional art to the world was a cherished cause of the royal family. She also spoke of Rajasthan being a destination that attracts domestic and international tourists and that the state is finally on its way in augmenting the number of tourists that it welcomes.
She thanked the Rajasthan Tourism Board as also several companies for their staunch support for her efforts in this direction.
The French Ambassador  spoke of how France values its rich heritage and of the fact that cities replete with heritage eventually attract so many tourists and this activity is essential in order to upkeep these heritage sites. Ambassador Richier pointed out that the hall of mirrors in the Versailles palace of King Louis XIV is a testimony to the craftsmanship of mirror and glass making that has stood the test of time.
The makers of those glass and mirrors were to eventually set up the glass giant Saint-Gobain that has today set up its glass plant in Rajasthan. Viewing convergence in values of preservation of cultural heritage, craftsmanship, promotion of tourism as also investment by French companies in Rajasthan, he underlined his support to these initiatives by the The Maharaja Sawai Man Singh II Museum Trust.
Mr. Subhash Goyal, president India Association of Tour Operators (IATO)  spoke of new steps that the government has taken to help boost tourism including initiatives like visa on arrival, enhancing commuter experience through better facilities at airports, creation of cultural festivals and so forth.
Art historian Giles Tillotson spoke about the rich history of Rajasthan and the commitment by its rulers to revive traditional arts and crafts with a special focus on Jaipur. He pointed out that when someone shops in Jaipur for textiles, jewellery, craftwork they are actually living the dream of the maharajas as shopping for local goods helps in perpetuating the rich traditions of handicrafts of the state.
Director of Diacolor jewels, Mr. Rishabh Tongya lauded the efforts of the Maharaja Sawai Man Singh II Museum Trust in coming to the aid of artisans and help them in enhancing their livelihoods with a deep respect for cultural values and traditions.
Ambassador Richier and Mr. Aman Nath, writer and a specialist in architectural restoration released the lavishly illustrated book Festivals of   Jaipur Court by Vibhuti Sachdev on the occasion.
The Treasures of Rajasthan exposition will showcase handpicked textiles and garments using the age-old techniques of leheriya, tie-dye and gota pati, complemented by traditional kundan-polki jewellery and contemporary fashion accessories. Also being displayed are select handicrafts, objets d'art, hand-tufted carpets, blue pottery, paintings, and lacquer products.
As part of the heritage tourism world, the Trust positions this platform as an apt showcase of the various forts, havelis, and boutique travel destinations that dot Rajasthan and are its hidden, unexplored gems. The exhibition presents them to domestic travellers, who account for 80% of tourism in India, as well as expatriates and foreign travellers.
Treasures of Rajasthan will come alive in the sprawling lawns of the Indira Gandhi National Centre for the Arts, Gate No. 4, Dr. Rajendra Prasad Road, New Delhi, on 21st – 22nd November, 2014 from 10.00 am to 6.00 pm.