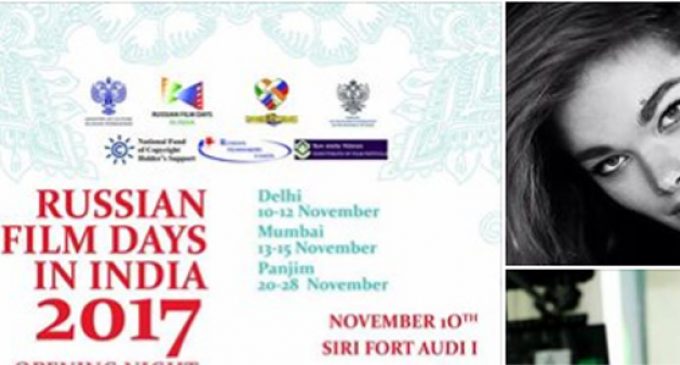 New Delhi, Nov 1 (IANS) In a year when India and Russia are celebrating the 70th anniversary of establishing their diplomatic relations, Russian Film Days — a film gala — will be held in three Indian cities.
International film festival Russian Film Days will begin with Delhi, and then move to Mumbai and Goa between November 10-28.
The opening ceremony will take place on November 10 at the Siri Fort complex here. It will be attended by the Minister of Culture of the Russian Federation Vladimir Medinsky, Russian Ambassador to India Nikolai Kudashev and representatives of Russian and Indian cinema. "Bolshoi", which will be presented by director Valery Todorovsky, will be the opening film.
The programme will begin with a theatrical performance dedicated to late Indian actor-filmmaker Raj Kapoor and his legendary film "Mera Naam Joker". Raj Kapoor's son Randhir will be present, along with Kseniya Ryabinkina, a former ballerina of the Bolshoi Theatre, who played one of the love interests of the lead actor in the 1970 film.
On November 11 and November 12, the Delhi audience will be able to see "Kitchen Final Battle", "Jana+Janko", "The Ghost of Sonora", "Attraction" and "Life Ahead".
The movie marathon will then continue in the capital of Bollywood, Mumbai. There, the viewers will also have access to animated film "Fantastic Journey To Oz", the cosmic drama "Spacewalkers" and the historical drama "Anna Karenina. Vronsiy's Story".
The next point of screening of modern Russian movies will be Panaji, where in the framework of the 48th International Film Festival of India (IFFI) in the non-competitive programme, they will present films "Light up", "Hostages" and "Closeness".
Also, "Loveless" by Andrei Zvyagintsev is a participant in the main competition of IFFI, and the famous Russian cameraman Vladislav Opelyants has been invited to the jury of IFFI.
In addition to screenings, there will be meetings of actors and directors with the audience, press conferences and professional discussion of the Indian international film festival.
Maria Lemesheva, the producer of the forum, said in a statement: "We see that our work is already producing results – the mutual interest of Russian and the Indian film industry has grown substantially. Considering the rich history of Indo-Russian cinema relations, I'm sure this year will be vivid and memorable and will give us new interesting and mutually beneficial projects."
The event, organised by LLC Cinemarus and LLC Russian Cinema, is being held with the support of the Ministry of Culture of the Russian Federation, the Filmmakers Union of the Russian Federation, Russian National Fund of Copyright's Holders Support, Embassy of the Russian Federation in the Republic of India, Ministry of Information and Broadcasting of India, Directorate of Film Festivals.