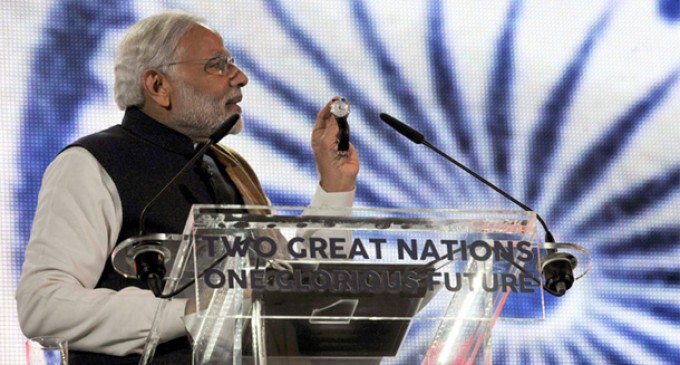 London, Nov 14 (IANS) Prime Minister Narendra Modi on Friday said that diversity was India's strength as he urged the country's diaspora to become integral part of its growth story and dispelled concerns highlighted in media over some incidents intolerance in the country, saying that "there is a very deep and best India outside TV screen"
Addressing a huge, enthusiastic gathering of British Indians at the expansive Wembley Stadium here, Modi announced resumption of a direct flight between London and Ahmedabad, simplification of the process concerning Overseas Citizen of India (OCI) card and measures taken towards electronic travel authorisation and e-migration portal.
British Prime Minister David Cameron, who was present at the stadium, described it "a historic day" and said it was biggest gathering of Indian diaspora.
Modi, who spoke for over an hour, talked of his government's plans to launch railway rupee bond in London and raised slogan "James Bond, Brooke Bond and Rupee Bond" to loud cheers from the gathering.
Modi, who has faced questions over intolerance from the media during his visit to the United Kingdom, said India was a land of diversity. "Diversity is its pride and its strength," he said.
Towards the end of his speech, Modi recalled work of Imran Khan, a resident of Alwar in Rajasthan who has developed over 50 mobile applications related to education and dedicated them to students.
"My India is in Imran Khan of Alwar," Modi said. He said leaders of the world ask him with some amazement how there is so much harmony in a diverse and big country like India.
Referring to the work of his government in the past 18 months, Modi said India's stature had risen in the world and said the diaspora must also be experiencing it.
"This change is the sign of India's success. Today when India talks, it does from a position of equality," he said.
"India is moving on the path of development at a fast pace. I can tell you that the speed which India has taken, the direction it has taken, results will be evident soon," Modi said.
Modi took out his watch and demonstrated that if it is seen upright it shows London time and if it is reversed it shows the time in India.
"There is no other two countries with such equation. Till the time there is sun and moon, the relations between India and England will continue to gain strength. We will cross new frontiers of development," Modi said.
Modi thanked people for "outpouring their affections" and said India will not judge its diaspora by the colour of their passport.
"You have as much right on India as I have," Modi said and asked them to renew their links with the country as their dreams will be fulfilled.
Referring to the challenges of terrorism and global warming faced by the world, Modi said life of Mahatma Gandhi showed solution to these problems and India can show the right path.
He also referred to Sufi tradition and said its greater spread would have helped check terrorism.
Modi said while his government wanted FDI (Foreign Direct Investment) in many sectors, for him FDI conveyed First Develop India.
Referring to increase in FDI flows, he said, "The world's confidence in India was rising. That is our biggest strength. We want to move ahead with that."
Referering to his proposal to launch a global solar alliance later this month in Paris, he said there were 102 countries which have harness solar energy. "India can lead in this," he said.
Modi said he wanted to make a "Clean India" and provide round the clock power to all by 2019, which is 150th birth anniversary of Mahatma Gandhi.
Modi referred to his humble origins as tea seller and recalled his push towards fighting female infanticide and financial inclusion.
Modi told the gathering that India has no reason to be poor took digs at the previous governments over corruption and their inability to remove poverty and said 18,000 villages in India were still without electricity.
"I do not why there is a habit to see that it stays," he said.
Referring to India having 800 million people below 35 years, he said "a country which has so many youth cannot stay behind".
Modi said India's rankings had improved in ease of doing business and in fighting corruption.
Without going into specifics, Modi said he had heard problems raised by Sikh leaders who met him and was working towards addressing them.
People intermittently shouted "Modi, Modi" as the prime minister delivered the speech.