By TN Ashok / Diplomatic Editor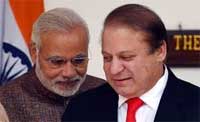 New Delhi, June 11 :  Contrary to news reports circulating in Pakistan, Premier Nawaaz Shariff thanked the Indian Prime Minister Narendra Modi  Wednesday for inviting him for the swearing-in ceremony saying he was quite satisfied with the meeting and outcome of talks.
"I must say that I have returned much satisfied with our meaningful exchange of thoughts on matters of bilateral and regional interest" Sharif said in a letter to the PM. The letter was delivered to the Indian Prime Minister by the Pakistan High Commissioner in India.
The Pakistani premier said millions of people living in poverty on both sides of the border deserve the foremost attention. "I firmly believe that in our concerted effort lies the welfare and prosperity of our two nations. The future is integrated with our common economic destiny," he said.
Nawaz Sharif met Modi on May 27 for the bilateral talks, a day after the former took oath as PM. The two leaders discussed issues including cross-border terrorism and agreed that terrorism was an issue of mutual concern and that they needed to address all conflicts to end the distrust between the two sides.
Earlier there were reports circulating in Pakistan dailies that Nawaz Shariff was not happy with his talks with Modi as it centered around mainly terrorism from across the borders. Shariff had reportedly told some party colleagues that there were other issues that Islamabad had attached priority which were not discussed at length. But Shariff's letter to Modi debunks all these reports circulating in Pakistan media, a political observer said.