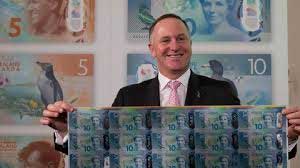 Wellington, Sep 2 The Reserve Bank of New Zealand on Tuesday launched new banknotes which will go into circulation later this year.
The new 5 and 10 New Zealand dollar bank notes will be out next month, but the Reserve Bank said it may take some time before the public get their hands on one, Radio New Zealand reported.
The currency notes, with new security features, will be released from mid-October.
Reserve Bank Governor Graeme Wheeler said the currency notes were technologically sophisticated and difficult to counterfeit, while also being aesthetically pleasing.
The security features include the holographic window, a colour-changing bird, a puzzle number and raised ink.
"The polymer notes are striking in their design and innovative in their security with the transparent holographic window and colour-changing bird a world first," he said.
The remaining 20, 50, and 100 New Zealand dollar banknotes in the new series will be released from April 2016.