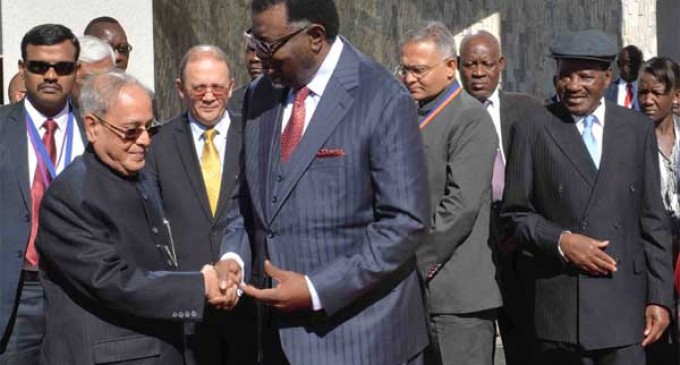 Windhoek (Namibia), June 17  Namibian leaders have assured visiting Indian President Pranab Mukherjee that they would study the legal aspects on how to make possible uranium supply to India for its peaceful civilian nuclear usage.
President Hage Geingob told Mukherjee, the first Indian head of state to visit the resource-rich African nation, that his government would study the legal and other multilateral aspects of the Indian requests so that Namibian uranium can be used by India for its peaceful energy usage.
Namibia is the fifth largest uranium producing country in the world. It has two large uranium mines that can produce 10 per cent of the world's total output. In 2014, the south-west African nation, bordering the Atlantic Ocean, produced 3,255 tonnes of uranium.
President Mukherjee, on the last leg of his three-nation African tour, also met former Namibian President Sam Nujoma and talked to students on the country, bridging generations of India-Africa cooperation.
He spoke about the past struggle against colonialism, and was equally focussed on the present and the future to consolidate an ongoing relationship between the two nations.
Mukherjee recalled how India did not consider its own independence complete without the African nations gaining their freedom from colonialism.
He also highlighted the role of Mahatma Gandhi, referring to his evolution as a mass leader and an anti-colonial agitator in South Africa.
Mukherjee's long years in government have helped push the generally ceremonial state visits towards concrete multilateral and bilateral issues while interacting with his hosts.
To assist Namibia in its well-being, the President pledged India's assistance in building a Business Centre and a Joint Business Council that would focus on industry, trade and investments.
He reminded the Africans that the entire continent of 54 countries does not find a single voice in the United Nations, particularly the UN Security Council, indicating that if elected to the council as its permanent member, India would seek to fill this void.