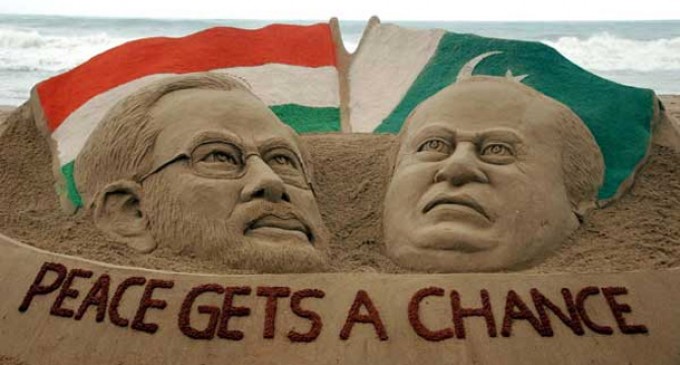 New Delhi, Feb 13 In a display of "cricket diplomacy", Prime Minister Narendra Modi Friday spoke to his Pakistani counterpart Nawaz Sharif as well as leaders of some other SAARC nations to convey his best wishes for their teams in the ICC World Cup 2015 and said Foreign Secretary S. Jaishankar would visit the countries, including Pakistan, soon.
Shortly thereafter, the external affairs ministry said the Indian foreign secretary would utilise the visit to Pakistan to push the bilateral agenda.
India had called off foreign secretary-level talks last year in August after Pakistani High Commissioner Abdul Basit decided to meet leaders of the separatist Hurriyat barely a few days ahead of the talks.
The prime minister tweeted in the morning that he had spoken to Sharif and the heads of other SAARC (South Asian Association for Regional Cooperation) countries whose teams are playing in the World Cup to wish them luck.
"Spoke to President @ashrafghani, PM Sheikh Hasina, PM Nawaz Sharif and President Sirisena. Conveyed my best wishes for the Cricket World Cup," Modi tweeted.
Noting that five SAARC nations are playing and are excited about the World Cup, Modi said: "Am sure WC will celebrate sportsman spirit and will be a treat for sports lovers."
"Cricket connects people in our region and promotes goodwill. Hope players from SAARC region play with passion and bring laurels to the region," he said.
The prime minister informed Nawaz Sharif about India's initiative to send new Foreign Secretary S. Jaishankar on a "SAARC yatra" or tour of South Asian countries, including Pakistan.
"Would be sending our new foreign secretary on a SAARC Yatra soon to further strengthen our ties," he said.
India take on Pakistan in their first World Cup 2015 match in Adelaide Sunday.
External affairs ministry spokesperson Syed Akbaruddin told the media that Pakistan would be among the countries which Jaishankar would visit as part of his tour of SAARC nations during which he would utilize the opportunity to discuss "bilateral issues".
"Sure, we have a bilateral agenda with all the SAARC countries and we will pursue that bilateral agenda too within the constraints of short visit to each of these countries…. Every leader and diplomat uses every opportunity to push its bilateral agenda," he said.
"When Indian and Pakistani leaders talk, they will utilize the opportunity to talk about other issues as well. A lot of issues come up but cricket is the main dish," he said.
The MEA spokesperson, however, said the visit to Pakistan was not likely to be in the next two weeks.