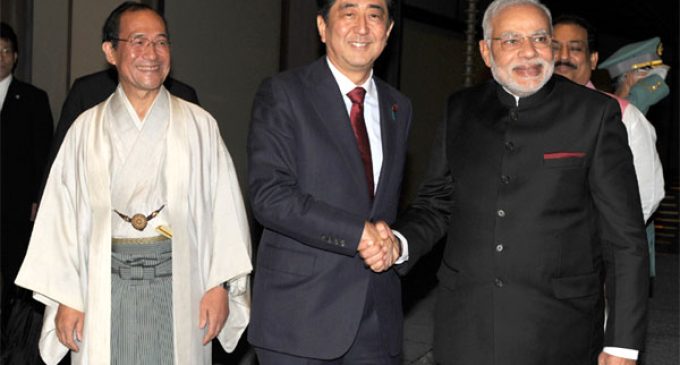 Tokyo/Kyoto, Aug 31 Japan Prime Minister Shinzo Abe Sunday said he was happy that his Indian counterpart Narendra Modi toured the country's ancient capital Kyoto, and said he was looking forward to meeting him again in Tokyo Monday for delegation-level talks.
Abe made a special gesture to fly down to Kyoto to receive Modi when he reached there.
"Looking forward to seeing PM Modi again in Tokyo tomorrow," Abe said in a tweet, which was re-tweeted by Modi.
Modi, who arrived in Kyoto Saturday and was received by Abe, Sunday visited the Toji and Kinkaku-ji temples.
Abe guided Modi around the Toji temple to take a look at its Buddhist statues and five-storeyed pagoda, which is a national treasure, Kyodo news agency reported.
"I am very glad that PM Modi enjoyed the cultural heritage of Japan's ancient capital, Kyoto," Abe tweeted.
He said he had valuable exchanges with Modi on India-Japan cultural ties and international affairs.
Sharing his thoughts on Modi's visit to Buddhist temples, Abe said: "Looking at statues of Buddha, we were reminded of the deep historical ties between Japan and India."
This is Modi's first bilateral visit outside South Asia.
Modi Sunday reached Tokyo on the second leg of his visit to Japan.
"Will begin the day tomorrow (Monday) with a visit to Taimei elementary school followed by meetings, address at a Business Luncheon and tea ceremony," Modi said in a tweet.