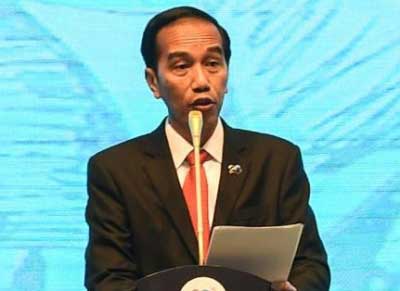 Jakarta, Jan 14 (IANS) Indonesian President Joko Widodo inaugurated Gelora Bung Karno (GBK) stadium on Sunday after it was renovated for the upcoming 2018 Asian Games.
The ceremony was held prior to a friendly football match between Indonesia and Iceland in the stadium, reports Xinhua news agency.
"I officially inaugurate completion of major renovation in Gelora Bung Karno stadium so that it can begin its service," the president said.
GBK was scheduled to host the opening and closing ceremonies of the Asian Games, which will take place in Jakarta and South Sumatra province's capital Palembang from August 18 to September 2.
The stadium, which can accommodate 80,000 spectators, equipped with an 80,000-watt sound system and an energy-saving LED lighting system.
The Indonesian government also renovated several sports venues located in the GBK sports complex, including a swimming pool and a tennis stadium.
In addition to venues, the Indonesian government has sped up construction of Light Rail Transit (LRT) systems in Jakarta and Palembang.
Eearlier in the day the Olympic Council of Asia (OCA) voiced its satisfaction with Indonesia's efforts to prepare for the Asian Games.
"The progress was obviously seen with most of the venues completed. They are doing well. I am convinced that the games will be a great success in August," said OCA Coordination Committee's Tsunekatzu Takeda.