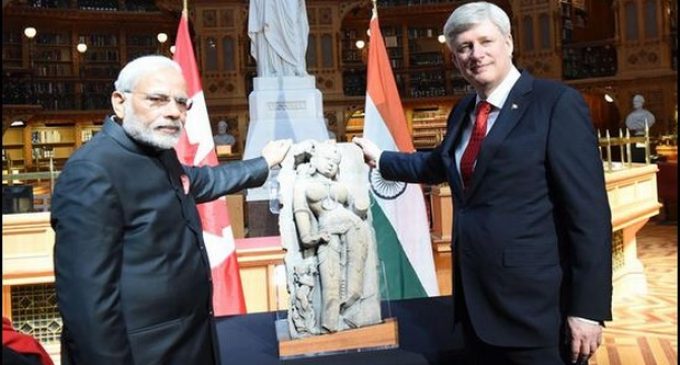 Ottawa, April 16 India's Parrot Lady' is to return home, after Canadian Prime Minister Stephen Harper on Wednesday handed over to Prime Minister Narendra Modi the 800-year-old Indian sandstone sculpture of a woman holding a parrot.
The sculpture dates back to the 12th century. It was returned in accordance with the 1970 UNESCO Convention, tweeted India's external affairs ministry spokesperson Syed Akbaruddin.
"Canada returns Indian heritage piece — "Parrot Lady" PM @narendramodi receives sandstone sculpture from Khajuraho," he tweeted.
The prized Indian statue was returned at the Library of Parliament in Ottawa.
Modi in exchange presented Harper with a miniature painting of Guru Nanak Dev with his disciples. The painting is by Jaipur-based artist, Virendra Bannu.
The around three-foot high statue of Parrot Lady' turned up in Canada in 2011 in the possession of an individual who did not have proper documentation; it was seized under the Cultural Property Export and Import which controls antiquities and other cultural objects being imported from foreign states, reports The Globe and Mail.
"The Parrot Lady is what is known as a naayika, or heroine. She is voluptuous, scantily clad, posed in manner that is a tad saucy, and has a parrot on her back. She is just one of many erotic stone ladies that were created to adorn the Khajuraho temples," says the Canadian daily.
A team of Archaeological Survey of India officials had travelled to Canada to inspect the statue and find out ways to bring it back to India.