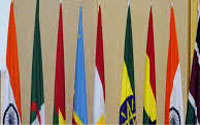 New Delhi, Aug 22 In a major signal to Africa, a continent which had felt neglected by the previous UPA government, the Narendra Modi government is set to host all the 54 African Union countries at the India-Africa Forum Summit this December in Gurgaon.
During the previous two summits, in 2008 and in 2011, around 12-15 countries, in representative selection by the African Union, participated in the summit. But for the Dec 4 summit, all the 54 countries of the continent are being invited in what would be one of the biggest such international gatherings in India in recent years.
The first summit was held in 2008 in New Delhi, and the second one in 2011 in Addis Ababa. The third one was originally scheduled in June but had to be put off because of the Indian general election in May. A new government, led by Prime Minister Narendra Modi, took office only on May 26.
However, the final number of participating countries in December would depend on the political situation prevailing in the region, officials said.
Currently, there is political uncertainty in some countries like Libya, while the Central African Republic, and the two Sudans have intermittently witnessed unrest.
According to officials, preparations for the mega event have already begun in consultation with the African Union commission. Prime Minister Modi is also expected to visit some African countries next year.
India-Africa trade stands at over US$ 70 billion and is aimed to reach the target of $100 billion by 2015. However, issues like connectivity and infrastructural bottlenecks need to be ironed out, according to the Engineering Export Promotion Council (EEPC).
On the other hand, neighbor China's trade links with Africa are booming. Bilateral trade volume in 2013 reached $210.2 billion, over 2,000 times that in 1960, according to a Xinhua report.
China has been Africa's biggest trading partner for five years, while the continent is China's second largest project contracting market and fourth investment destination. Africa's exports to China comprise mostly steel, copper, chemical fertilizer and electronic products.
The last China-Africa summit, called Fifth Forum on China-Africa Cooperation (FOCAC), was held in Beijing in July 2012 and saw the participation of most African countries. The sixth edition is due to be held next year in South Africa.