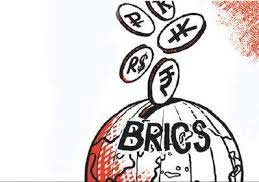 Washington, April 15  The New Development Bank, the latest multilateral funding institution in the financial world, has sanctioned a $250-million loan for India to fund its ambitious scheme on new and renewable energy, a top finance ministry official has said.
"Participated in meetings of BRICS (Brazil, Russia, India, China and South Africa) finance ministers and Board of Governors of the New Development Bank. Major policy issues discussed," India's Secretary for Economic Affairs Shaktikanta Das tweeted.
"New Development Bank sanctioned four loans, including a loan of $250 million for a renewable energy scheme in India. Good beginning," Das said.
This, according to officials, is in the area of solar energy and is also the first such loan from the development financial institution.
The New Development Bank, with noted Indian banker K.V. Kamath as its president, was formed by the BRICS leadership with an objective of funding infrastructure projects in emerging economies, as also to meet the aspirations of hundreds of millions of people through sustainable development.
Das is a member of the Indian delegation led by Finance Minister Arun Jaitley for the World Bank-International Monetary Fund Spring meetings, which also includes Reserve Bank of India Governor Raghuram Rajan and Chief Economic Advisor Arvind Subramanian.