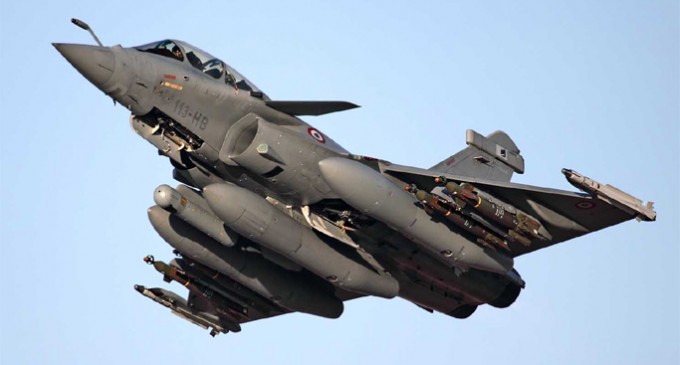 Paris, April 11 A breakthrough in the much delayed process of buying Rafale jets was reached on Friday as Prime Minister Narendra Modi announced India will buy 36 Rafale jets from France in fly-away condition soon, citing "critical operational necessity".
The decision is among the several agreements reached between the two countries after his meeting with French President Francois Hollande here.
"Keeping in view the critical operational necessity of fighter aircrafts in India, I have spoken with the (French) president for buying 36 Rafale jets in fly-away condition as soon as possible," Modi said while addressing the media jointly with the French president.
Modi said these jets will be bought under an agreement between the two governments.
He added that officials from both sides will discuss terms and conditions of the deal in details and take it forward.
Modi also said defence cooperation with France has been enhanced and the two countries would work together in manufacturing defence equipment and developing technology.
"President Hollande has extended full cooperation for our 'Make In India' campaign in the defence sector which is not just a programme but an ambition we have. India and France will together make defence equipment and also develop technology," Modi said.
The Indian prime minister added that he had a detailed talk with French defence companies.
"Today we have taken strategic cooperation with France to a new level," Modi said in an address in Hindi.
Dassault Aviation in a statement has welcomed the development.
The Indian Air Force (IAF) had short listed Rafale for induction into its frontline combat fleet, replacing the ageing Soviet-era MiG-21 squadron but the deal did not materialise for long.
The original deal, with an estimated cost of $20 billion, was for delivery of 126 fighters, including 18 off-the-shelf by Dassault, and 108 to be manufactured in India under licensed production by the state-run Hindustan Aeronautics Ltd (HAL) over time, with 50 percent offset obligations to benefit the domestic aerospace industry.
The IAF opted for the twin-engined Rafale in January 2012 over Eurofighter Typhoon of the European consortium EADS Cassidian after outsmarting F-16 of American Lockheed Martin, F/A-18 of Boeing, MiG-35 of Russian United Aircraft Corp and Swedish SAAB's Gripen in a global competitive bid floated in August 2007.