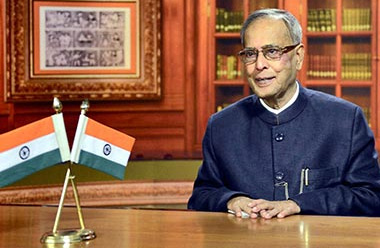 (IANS) President Pranab Mukherjee on Saturday expressed confidence that "traditional ties of friendship and cooperation" between India and the Maldives will continue to flourish.
In a message to Maldivian President Abdulla Yameen Abdul Gayoom on the country's Independence Day (July 26), Mukherjee said: "I am confident that the traditional ties of friendship and cooperation that exists between two countries will continue to flourish in the years ahead.
"I have great pleasure in extending my warm greetings and best wishes to you and to the friendly people of the Maldives on the occasion of your Independence Day and completion of fifty years as an independent nation."
"This year also marks the golden jubilee year of the establishment of diplomatic relations between our two countries. Please accept, my best wishes for your good health and personal well-being," Mukherjee said in a statement.