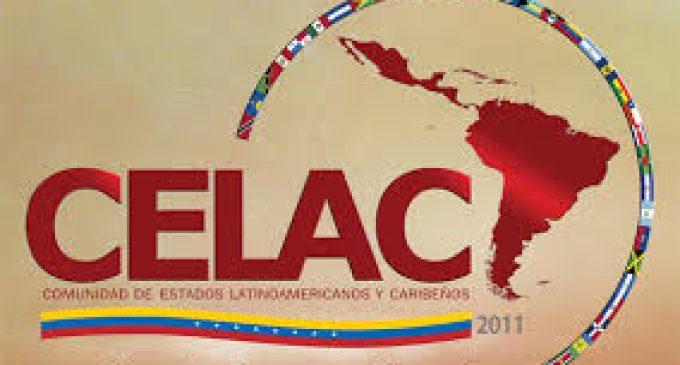 New Delhi, July 23 An India-Latin America Forum to forge a new paradigm of cooperation leading to a "strategic partnership" could be in the offing in the near future.
India and the Community of Latin American and Caribbean States (CELAC) are exploring possibilities of a "dialogue mechanism", based on the recent interactions and talks New Delhi held with the troika of foreign ministers of the 33-member grouping in August 2012.
Indian Prime Minister Narendra Modi's meeting with Latin American leaders was somewhat overshadowed by the news about the formation of the BRICS bank. A India-CELAC Forum could throw up innovative ideas and take the engagement to the next level, by exploring partnerships by way of joint ventures, technology transfers, alliances regional and multilateral issues of mutual interest, say officials.
According to official sources, this forum could be in the pattern of the India-Africa Forum Summit that would provide the country a platform to deepen links with a region which is contributing to India's energy and food security and emerging critical to its multilateral diplomacy on a host of issues where the interests of both sides coincide.
"In a globalised and interconnected world, our destinies are inter-linked. We are bound, by shared aspirations and common challenges. We all have a stake in each other's success. Distance is not a barrier to opportunities," Modi told leaders from 11 countries in the region in Brasilia last week.
Modi said India would work more closely with South America at bilateral and multilateral levels, and seek "newer avenues" of generating mutual prosperity, as both sides are discovering new complementaries and synergies.
Much water has flown under the bridge since the days when Jawaharlal Nehru, because of geographical distance between the two regions and the lack of a common history, described Latin America as "half mystical, half mixed with romance and all that". For long, it did not figure in India's foreign policy calculations. The interactions were sporadic and minimal, despite Indira Gandhi's 1968 trip to as many as seven countries to have a "concord" with the land its people. And ties were almost exclusively led by the private sector.
However, since the 1990s, both India and LAC region have started engaging each other seriously and systematically through exchanges of high-level visits, foreign office consultations and Joint Commission Meetings.
This is precisely because of the winds of change blowing across the continent in recent years. The region is no longer under the political and economic sway of the United States. Countries have seen a deepening of democracy and are pursuing autonomous development and foreign policies. Rich in natural resources, their unfolding growth story is making them alluring places for investment. According to the UN Economic Commission for Latin America and Caribbean, countries in the region last year received a record $173.361 billion in foreign direct investment despite an international context characterized by shrinking FDI flows worldwide.
India's increasing interest in LAC is also due to the changing face of India's economy and foreign policy, which differ significantly from the political, state-centric way that India approached its "South-South relations" in earlier decades. Two-way trade has surged to $46 billion in 2013 from less than 2 billion in 2001, and which has the potential to go up to $100 billion if the enormous opportunities in areas like hydrocarbons, agriculture, food processing, IT, pharma, textiles,leather, engineering goods, automobiles are leveraged. The countries of region have been supplying over two billion dollars worth of minerals annually to India. India has been importing over a billion dollars worth of soy and sunflower oil from Brazil and Argentina every year. Brazil, Venezuela, Ecuador and Colombia have been meeting around 10 percent of India's crude oil.
Salman Khurshid, then India's external affairs minister, said after a India-Brazil Joint Commission meeting last October that both sides have agreed to "increased investments in each other's energy sectors" and "perhaps in third countries as well".
International trade analysts say with the emergence of the New Pacific Alliance (Mexico, Peru, Chile and Colombia), India has a great opportunity to expand trade with some of the continent's most liberal economies, which average a very attractive 45 rating in terms of global ease of doing business. India recently became an 'observer' in the Alliance.
India is also seeking to widen the preferential trade agreements (PTAs) with Mercosur countries and Chile. There have been suggestions that the country should diversify its economic partnerships and ink free trade agreements (FTAs) with Mexico, Colombia and Peru — the second, third and fourth biggest importers of Indian goods in Latin America.
Indian investment, however, has been low. Over the last two decades, the LAC region has received a total of about $16 billion, which is estimated to be just about 4 percent of the country's outward FDI. Also, investments into India from LAC are low, despite the complementarities and absence of any conflict of strategic nature.
Business chambers such as FICCI say that economic engagement between India and LAC can be enhanced mainly by way of investments, as conventional trade in goods has its challenges on account of distance, time zone difference and business culture. While trade in commodities may still continue due to their bulk nature and involvement of mega institutions, manufacturing goods and services business can grow essentially by way of investments. Investments will automatically lead to trade growth too.
Modi, in his interaction with the Latin American leaders, asked them to encourage their businessmen to take part in an upcoming investment conclave in New Delhi this October.
However, it's not just economics and energy that are helping India and Latin America to bond. Issues of common concern such as national sovereignty and security and changing the balance of power in international institutions are becoming the new glue. Defence production, cyber security and space represent the emerging strategic components of the relationship.
And significant it is from another angle. China, after the BRICS summit in the Brazilian capital, announced a cooperation forum with the CELAC and said its inaugural ministerial meeting in Beijing would be held next February.