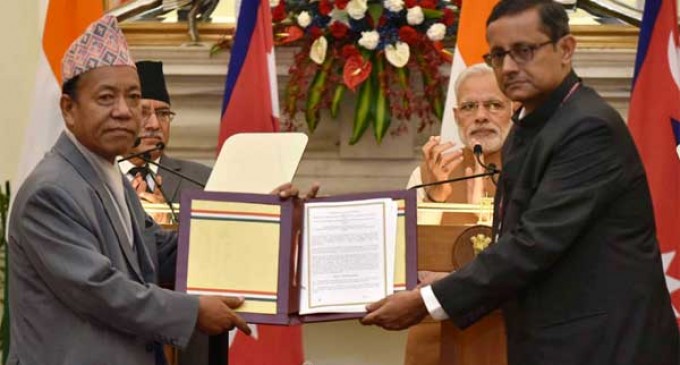 New Delhi, Sep 16  India on Friday extended a fresh $750-million credit line to Nepal for post-earthquake reconstruction.
This was among three agreements signed following delegation-level talks chaired by Prime Minister Narendra Modi and his Nepalese counterpart, Puhspa Kamal Dahal "Prachanda" here.
"Fresh impetus to Nepal's development. Leaders witness signing of agreements on roads and reconstruction projects," External Affairs Ministry spokesperson Vikas Swarup tweeted.
The $750-million credit line is over and above the $1 billion aid that India announced following the devastating earthquake in the Himalayan nation last April that claimed over 8,000 lives.
The two sides also signed a memorandum of agreement (MoU) for project management consultancy services for upgrading and improving the road infrastructure in Nepal's Terai area.
Another agreement was signed on the first amendatory dollar credit line for post-earthquake reconstruction projects in Nepal.
Prachanda arrived here on Thursday on four-day visit to India after a new Maoist-led government assumed power last month.
Earlier on Friday, Prachanda was accorded a ceremonial welcome at the Rashtrapati Bhavan here.
Ahead of his talks with Modi, External Affairs Minister Sushma Swaraj called on him at the Rashtrapati Bhavan here.