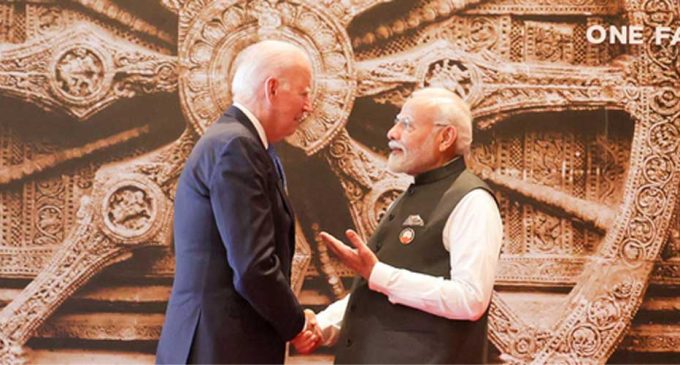 Washington, Sep 10 (IANS) India is disappointed that Chinese President Xi Jingping and Russian President Vladimir Putin could not personally attend the G20 meeting hosted in New Delhi by Prime Minister Narendra Modi, but was happy that US and India clinched a lot of agreements on high technology, a top US government official said.
Kurt Campbell, President Joe Biden's Deputy Assistant and Coordinator for the Indo-Pacific Region on US foreign policy, said the White House views the absence of Putin and Xi as a great disappointment to India when world leaders were attending.
"There is substantial disappointment that they're not here and gratitude that we are," Deputy Assistant to the President and Coordinator for the Indo-Pacific Kurt Campbell told reporters shortly after Biden's meeting with Modi as reported in the US media here.
Biden's top agenda on arrival was the one-on-one meeting with Prime Minister Modi at his residence as he sought to embrace India as one of the most critical partnerships for the US in the 21st century and a trusted regional ally to counter China.
"The leaders re-emphasised that the shared values of freedom, democracy, human rights, inclusion, pluralism, and equal opportunities for all citizens are critical to the success our countries enjoy and that these values strengthen our relationship," a joint statement released after the meeting read.
The leaders clinched a series of agreements on technology and trade and were happy on agreements on high-tech trade, including on semiconductors, telecom and computing.
Of particular significance were the leader's statements that they had settled the seventh and last outstanding World Trade Organisation dispute between them.
India said that a lot of duty restrictions being freed for more than a dozen commodities imported from the US.
Modi also looked forward to welcoming President Biden to the next Quad Leaders' Summit to be hosted by India in 2024, Campbell said.
Biden proposed to use the absence of Xi Jingping and Vladimir Putin at the G20 summit in Delhi towards countering China by papering the fractures and to convince a splintered world that the United States remains a committed and valuable partner for all.
Biden's presence in Delhi shows strong headwinds in his bid for re-election; a poll conducted by the CNN said. Released on the day of his departure showed two-thirds of Democrat-leaning voters don't want Biden as the 2024 nominee.
Europe is concerned if Biden's robust pledges of a US role in the world could be sustained in view of his own shaky political standing within the party and the US voters, report said. G20 in India provides him the opportunity that the United States can act as a better partner for developing countries than China.
US said that at the summit, the changing dynamics of the G20 will be in sharp relief as two of the biggest players, Xi Jinping and Vladimir Putin, skip the previously unmissable event. Their absence has not deterred President Joe Biden from making the long journey to India (despite testing vigorously for Covid 19) for the gathering as the U.S has not lost its gusto to seize the opportunity.
Biden has never lost an opportunity to make the G20 and the smaller, more U.S.-aligned Group of Seven, a cornerstone for his foreign policy initiatives.
Biden actually met Chinese leader Xi Jingping for the first time since he became President only at last year's G20 gathering, on the Indonesian resort island of Bali. They have had no direct communication since but high-ranking members of their respective governments have travelled between the nations' capitals.
Biden hinted at a meeting this fall with Xi, possibly at a conference for Pacific Rim countries the U.S. is hosting in November, "It would be nice to have him here, but now the summit is going well," Biden commented on Saturday but equally he was disappointed just as India was over Xi Jingpings absence.