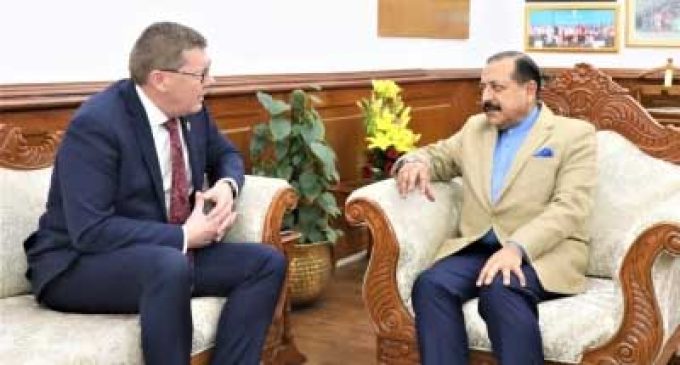 New Delhi, March 4 (IANS) A high-level Canadian delegation led by Scott Moe, premier of the Canadian province of Saskatchewan, on Friday called on Union Minister of State (Independent Charge) Science and Technology Jitendra Singh.
During the meeting, a discussion was held on co-operation and joint ventures in areas like electric vehicles, quantum technologies, green hydrogen fuel, deep ocean mining, among others.
Singh said that the 23 lakh-strong Indian diaspora was reinforcing Indo-Canadian relations, and contributing to the development of both nations.
Welcoming the delegation, the Minister said: "India has one of the largest diaspora anywhere in the world at 2.3 million in Canada, and they have achieved success in all walks of life."
"The diaspora which contributes positively to both countries, would be a good bridge between the two nations, as Canada is one of the most favoured destinations for Indian students for higher education," he added.
The Minister also told the delegation that last week, on the occasion of National Science Day, the Central government announced the VAIBHAV Fellowship for the Indian diaspora to connect the Indian researchers/academicians with Indian diaspora researchers/academicians.
Singh said that India is keen to develop research collaborations with the Canadian R&D institutions.
Moe said that Canada-India relations have made great strides in recent years and have become truly multi-dimensional, spurred by a significant convergence of interests, mutual goodwill and exchange.
He said: "Science and technology cooperation is one of the strategic pillars of the bilateral relationship between the two countries. Academia, Research Institutions and Industries of both countries have strong bonding and are playing the role of catalyst in our strategic research and development partnerships."