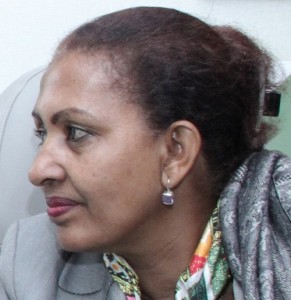 New Delhi, July 9 Zenebu Tadesse, the Ethiopian minister for women, children and youth affairs was in India on a personal visit and considers India her home away from home. After all, this was where she completed her higher education.
Back in the nineties, she chose Punjab University to complete her graduation. It was soon after that that she joined the Ethiopian government and grew in the ranks to finally reach her present role as a minister. According to her, her time in India served much in shaping her as a person and contributing to her strengths as a woman.
But she had never been an ordinary woman. Back in 1978, in the midst of the Ethiopian civil war, 15-year-old Tadesse was in high school.
Even at that tender age, she could see what was happening to her country, to her people. She left school and joined the EPRP (Ethiopian People's Revolutionary Party) to counter the military junta or Derg. The military rule started with the defeat, imprisonment and eventual death of Emperor Haile Selassie who was a close friend of India and under whose rule Indo-Ethiopian relations were at their peak.
Tadesse had never seen a gun until she arrived at the bush. She was one of the first female soldiers to join the movement leaving behind her regular life, her family, her friends. Within months she had mastered different types of weaponry and even became a military commander of one of the rebel units by the age of 16.
She remained a part of the rebel forces and became one of the more influential women within the same by the time the military junta was overthrown in 1991 and the civil war came to an end.
Slowly the country started to pick up the pieces and put it back together.
Meanwhile the young woman continued with her education and eventually decided to focus on agriculture as a subject given that this was the key area of development for a country which had seen so much of drought and starvation over the years.
This was what brought her to India. A country with a shared history and one that she felt a connection to. And what better place to learn about agriculture than India's very own green revolution leader, Punjab.
After three years here, she got her degree and went back to her country armed with knowledge enough to contribute to making key changes in the system.
"The livelihood of 85 percent of the population in Ethiopia is based on agriculture. A large section of the women remain illiterate although they contribute much to this sector. My aim has always been to change this," Yedesse told this writer with a thoughtful smile.
According to Yedesse, there is much one can learn from India in terms of how the country has overcome various social problems. Knowledge transfer from India to Ethiopia, she said, could be the key in contributing to making Ethiopia a middle income country by 2017.
"I am still fighting against a lot of social problems that we as a country continue to have. But I believe that at the same time, we have grown much. For example, women constitute nearly 40 percent of our parliament. That's more than most countries can boast of!"
Her eyes sparkled as they surely did when she was a young rebel fighting for change.