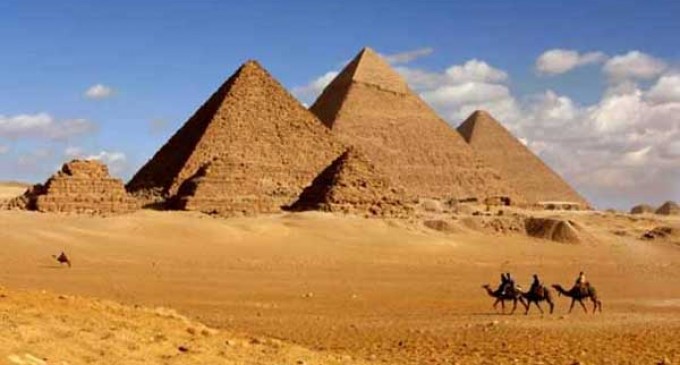 Mumbai, April 20 Vegetarian food, attractive holiday packages and, above all, advertising the country through Bollywood and regional cinema are all part of an elaborate game plan chalked out by Egypt's tourism ministry, recovering from declining footfalls due to political unrest of the last few years, to woo the globe-trotting Indian traveller to the Land of Pyramids.
Ismail Hamid, the Egyptian Tourism Counsellor to India, said the country was reviving from the slowdown in tourist arrivals following the 2011 revolution that saw the toppling of two governments in three years.
According to Hamid, tourist footfalls fell from 14.7 million in 2010 to around 10 million in 2014 – a drop of about 32 percent – while Indian footfalls declined by a whopping 48 percent in the same period, largely due to perceptions that Egypt has become unsafe due to chronic political violence brought about by the Arab Spring and its chaotic aftermath with hundreds of deaths and then the transition to a military-led government after a failed experiment with democratic rule.
Egypt's tourism ministry has set itself to increase the figure in the next couple of years to lure the ever-increasing number of Indians travelling abroad, courtesy the rise in their disposable incomes due to a growing economy and who are being pursued by tourist authorities from around the world.
"We believe that India could be a very promising market for us. Though the percentage of Indian travellers to Egypt is low, the numbers are growing thanks to the interest of Indians to travel abroad and the country's emerging economy," said Hamid, who is based in India's financial capital.
"India is a good market for Egypt," he added.
Asked whether tourists, especially Indians, would be willing to allay their fears and holiday in Egypt, Hamid said global events like the International Development Economic Conference held in March in Sharm-El-Shaikh as well as the India By the Nile Festival organised in Cairo will boost Egypt's image as a "safe destination".
"I believe that positive news about Egypt will promote it as a safe destination and attract tourists," he said.
Value-for-money holiday packages, direct flights, vegetarian food and Indian movies are some of the many factors that will be pivotal to the ministry's plan.
"We are planning to widen the network of direct flights from different cities of India to all major tourist destinations of Egypt as well as actively advertise here about adventure tourism destinations like the Red Sea in Hurghada, Sharm-El-Sheikh, Sahl Hasheesh and Marsa Alam which are famous for diving, water sports, and safaris," Hamid said.
Noting that Indians are quite picky about their food and choose destinations accordingly, Hamid said Egyptian dishes and their preparation were quite similar to India's.
"Egyptians love Indian food as it is very similar in taste to ours. There are numerous Egyptian restaurants all over Cairo, Alexandria, Luxor or Hurghada that have restaurants serving pure vegetarian food."
In addition, Hamid said, the number of existing Indian restaurants at all popular tourist destinations were increasing and will continue to increase along with the arrival of more Indian travellers.
However, it's the love for films that is common to both Egypt and India, felt Hamid, who has an elaborate strategy in place to reach out to the masses through Hindi and regional cinema by promoting Egypt as a location to shoot more Indian films.
Bollywood blockbusters like Amitabh Bachchan- starrer "The Great Gambler" or "Singh is Kinng", "Kabhie Khushi Kabhie Gham" and "Maine Dil Tujhko Diya", among others, were partly shot in Egypt.
"Our plans are not only for Bollywood but also for Tollywood, Chitrapat (Marathi) and other regional cinema. Egypt is aware of the importance of the film industry for the culture and tourism sectors.
The third edition of the "India by the Nile festival" inaugurated by Bollywood star Amitabh Bachchan was also a step in this direction.