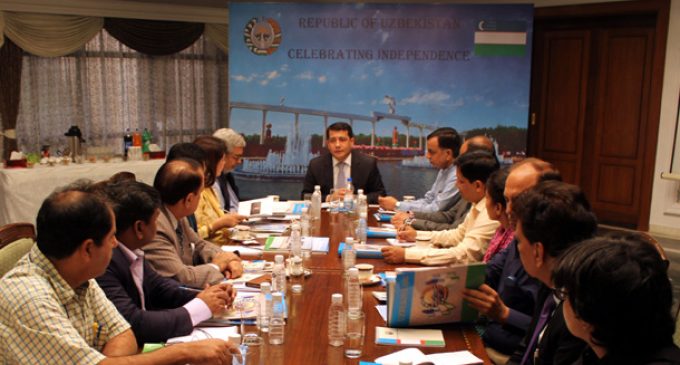 by V N Jha
Uzbekistan, an important country in India's extended neighboorhood of Central Asia, is in the cusp of change. The country under the dynamic leadership of President Shavkat Mirziyoyev, is bringing about positive change and aligning the country with changing giostrategic and economic situations in the world and also with United Nations Sustainable development goals. The country's governance is geared towards deepening democratic institutions & values and also liberalising the economy to attract trade & investment to Uzbekistan.
While addressing the UN General Assembly recenlty, President Mirzeyoyev declared that people, their welfare, humanism, parliamentary supervision, transparency, peace &  stability are the guiding principles of Republic of Uzbekistan.
Addressing a roundtable of academics, business leaders, media persons and professional, the Newly appointed Uzbek Ambassador to India, Mr. Farhod Arziev said that his country is having a new political atmosphere combined with economic liberalisation and taxation reforms which is set to change the face of Uzbekistan."
Using the opportunity as a curtain raiser for the forthcoming International Conference on Central Asia under the auspices of the United Nations named : "Central Asia : shared past and common future, cooperation for sustainable development & mutual prosperity" to be held on November 10-11, 2017 in Samarkand, the ambassador said that Uzbekistan, while setting aside the past, has embarked on regional prosperity, connectivity security and peace.
While talking about far reaching economic reforms underway, he informed that the real game changer is the decision to make currency fully convertible and appointing an ombudsman combined with a virtual reception office for instant grievance redressal. The Ambassador also talked of regional cooperation,dialogue & water sharing for a peaceful and prosperous Central Asia. He also recalled his President's UNGA proposal for an International Convention on Youth & wiping out the root causes of Terrorism  and drug abuse by cultivating education and tolerance.
Elaborating on uzbekistan's Foriegn Policy goals, the ambassador said that for his country immediate and extended neighborhood remained top priority. He informed that officials, experts and delegations from India, Russia, US, EU, Japan, Turkey, UN, SCO, OIC etc. are expected to participate in International Conference.
Recalling the thousands of years of shared history culture and civilisational ties with India, the envoy said that Uzbekistan and India shared common outlook in
regional and international forums on issues of mutual interest including the problems in Afghanistan. The relations between the two countries were not only coordial friendly but also emotional, he said.
The Ambassador informed that he was looking forward towards greater economic cooperation and investment from India in Uzbekistan's special economic zones in various sectors. He declared that a goal of enhancing the bilateral trade from $ 400 mn to $ 1 bn was  decided during the  visit of Indian Prime Minister to Tashkent and his meeting with President Shavkat Mirziyoyev.
The Ambassador also talked about increased tourism, people to people contact and exchange of views & expertise in different fields. He referred to recent initiative of twin city engagement between Agra & Samarkand, Delhi & Tashkent and also with Jawarharlal Nehru University.
The interaction at this round table initiative taken by the embassy of Uzbekistan displayed fresh energy, heightened engagement and target oriented action strategy
brought about by the new ambassador.